Tyler Oakley's 'Binge': Where to Buy and Download YouTube Star's New Book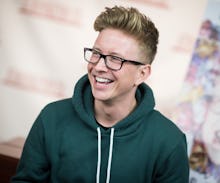 Michigander Tyler Oakley, the YouTube phenomenon who has accumulated more than 21 million subscribers, released his first book, Binge, on Tuesday. Oakley appeared on The Today Show in New York City to promote the book launch, and at 6 p.m. ET is scheduled to host a book signing at a Barnes & Noble in Tribeca.
Through vlogging, Oakley has made a name for himself as a pop culture commentator, tastemaker and LGBT advocate. The 26-year-old's push into writing builds on his connection with his fan base through his collection of personal essays.
Oakley's fans poured their support for the YouTuber on Twitter:
In an interview published Friday with Out magazine, Oakley said his pivot into authorship was largely circumstantial. 
"I never even thought it was in the realm of possibilities," Oakley told Out. "When I started YouTube, I had no intention of doing anything outside of it. But then, as the years went on, I started to see my friends get a lot of opportunities, whether it was books or TV or a movie — it was just kind of like blowing my mind that this was something that was could come from just uploading content onto YouTube."
Binge is available for purchase online at Barnes & Noble, Amazon, Indiebound, Google Play, Bam! and the iBookstore, and links to each option can be found on the book's website. Oakley is on tour to promote his first literary achievement, and the Binge webpage also details the dates of Oakley's trek through the Midwest and the U.K. 
Binge is available for download on Kindle for $11.99. A hardcover copy of the book is $13.47, and CD versions of the book are also available for $21.77. For newcomers to Oakley's fan base, checkout a primer on the YouTube personality below.