Pierre Trudeau, Justin Trudeau's Father, Was One of Canada's Most Famous Prime Ministers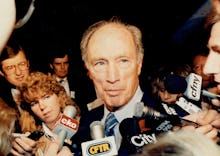 Canadian politics took a surprising turn on Monday night when the Canadian House of Commons chose liberal politician Justin Trudeau as the country's next prime minister. The Trudeau name has a legacy in Canada: Pierre Trudeau, the father of 43-year-old leader of the Liberal Party, was one of the most recognized and longest-serving prime ministers in the nation's history.
Justin Trudeau's rise to power — he received a majority of the 338 district votes needed to hold a majority — is similar to his father's nearly five decades ago. Pierre Trudeau, who passed away in 2000, rose to high office in large part because of a movement among young people in the country known as  "Trudeaumania." The progressive liberal prime minister fought for universal health care, less bureaucratic "red tape" and was responsible for the country's official separation from Great Britain, according to Biography. 
Pierre Trudeau served as Canada's PM from 1968 through 1984, excluding a brief eight-month absence from June 1979 to March 1980. His name was widely recognized in the United States, something that's hard to come by for Canadian politicians, CBS News reports. Trudeau's reputation often drew parallels to U.S. President John F. Kennedy.
Justin Trudeau took the stage at a Montreal hotel Monday night to thank his supporters. "Tonight Canada is becoming the country it was before," he said, the Minneapolis Star Tribune reports. "We beat fear with hope. We beat cynicism with hard work. We beat negative, divisive politics with a positive vision that brings Canadians together. Most of all, we defeated the idea that Canadians should be satisfied with less."
According to the BBC, Canada's new prime minister takes as progressive stances as his father on several major issues. Among Justin Trudeau's already-announced initiatives: He will accept more Syrian refugees than the country initially planned to take in, he plans on curbing carbon emissions as well as potentially legalizing marijuana and he could deepen Canada's relations with the U.S., the Canadian Press reports.