Drake's "Hotline Bling" Is the Latest Example of the GIF-Ready Music Video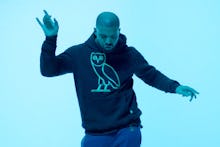 Drake dropped the video for "Hotline Bling" Monday, and the Internet united in its response: He looks absurd.
The clip for Drake's biggest song in an already huge year features the rapper dancing in increasingly silly ways in pastel-colored spaces for nearly five minutes. It's as if Drake played Carlton Banks on Fresh Prince of Bel-Air. As one could expect, GIFs of the video delighted the Internet, quickly becoming memes and reaction tweets.
Watching the video as a whole, however, it almost seems like the clip was designed with the GIFs in mind. It's very similar to the equally GIF-worthy videos on Beyoncé, Queen Bey's self-titled record from 2013. Like Beyoncé's "Pretty Hurts," for example, which featured a trophy thrust for the ages, "Hotline Bling" can easily be digested as moments instead of as a whole.
Music writer Caitlin Cristin White first made the comparison on Twitter, saying "Hotline Bling" was the first video since the Beyoncé album's videos to be designed for GIFs than as an actual music video.
However, the GIF-designed music video is more prevalent than just that. In fact, in the two years since Beyoncé, the GIF-ready video has become the key to visual success at a time when the music video, by all accounts, should be a relic of the past.
Think of Nicki Minaj's "Anaconda" video. Attempting to give a summary of the video's story is difficult. The song is about the power and glory of the derriere. The video, appropriately, is basically all about Minaj and her dancers showing off their butts. 
"Anaconda" is uncomplicated, but it's memorable in flashes. There's Minaj tempting Drake with her butt. There's the synchronized dance in the white room. There's Minaj working out her glutes. It's all quite striking — and quite GIF-worthy.
Minaj's former feud rival also has an understanding of GIFable moments in videos. There's "Blank Space," featuring a crazed Swift stabbing a cake and beating her lover's car with a golf club, in Elin Nordegren style.
There's "Shake It Off," featuring Swift dressed for different styles of dance and performance, each more dissonant than the last.
Perhaps most GIF-designed of all is "Bad Blood," which featured a cavalcade of cameos from Swift's famous friends like Lena Dunham, Hailee Steinfeld and Mariska Hargitay.
At their best, videos designed with GIFs in mind don't feel unnatural. Instead, they're an enhancement of the hyperstylized video that's been around for years. 
Think of Lady Gaga's "Telephone," filmed long before GIFs were the cultural currency they are now. Though ostensibly plot-heavy, nearly everything that happens in the clip aims to be more outrageous than what happened right before. Today, it would be an utter GIF harvest for Twitter the next day.
At worst, however, these GIF-designed videos are gimmicky. That's definitely the case with "Bad Blood," which didn't really use its all-star cast for any big impact. Each performer had only a moment or two on-screen. In Drake's case, the "gimmicky" label could have been fatal. Hip-hop is a genre that values authenticity. At another time, with another artist, a clip like this could have backfired. 
Luckily, as BuzzFeed's Mackenzie Kruvant noted, "Hotline Bling" worked because Drake has a greater understanding of what works on the Internet. He may look silly in GIFs bouncing around Twitter, but it's all worth it in the longer game. The buzz from these GIFs is the best promotion he could ask for.
No, this is a clear win for the Canadian rapper. Drake can confidently shrug off his critics this time. He won this round by winning the Internet.