Lamar Odom Update: Khloé Kardashian Releases First Statement Since His Hospitalization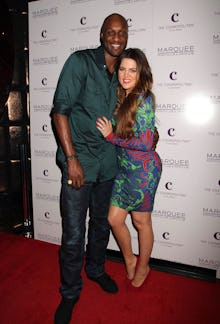 Khloé Kardashian broke her silence on Tuesday, a week after her estranged husband and former NBA player Lamar Odom was found unconscious and non-responsive in a Nevada brothel Oct. 13. The eldest of the Kardashian sisters and star of the reality show Khloe & Lamar thanked her friends, family and fans for their continued support.
"The past week has been incredibly difficult," Kardashian wrote on KhloeWithAK.com. "I am so thankful to family, friends and fans, who have sent nothing but prayers and well wishes to Lamar. ... You can never be prepared for an experience like this, but without the outpouring of love and endless prayers that Lamar has received and the strength I was given from my loved ones, it would have been difficult to endure. Thank you for your continued support. God is great!!!"
Odom, the former Lakers player who helped the team land two national championships during his time on the team, was rushed to a hospital Oct. 13 after 911 calls to the Nye County Police Department in Nevada indicated he was unresponsive. Odom had reportedly been taking up to 10 pills of "herbal Viagra," a pill known to contain levels of chemicals that are dangerous to the human body. 
It was then reported the basketball player opened his eyes and asked to his see his children on Friday. 
Other stars, professional athletes and members of the Kardashian-Jenner family have been expressing their support for Odom since he was hospitalized. "Please don't go," Kendall Jenner tweeted, along with her younger sister Kylie, who uploaded a photo of Odom and her on Instagram along with the caption, "Let's dance again together soon. Prayers up for Lamar please."
As Mic previously reported, Odom's condition has been improving. On Monday, reports surfaced that the basketball player was getting ready for physical therapy. "Each day Lamar is getting stronger and reaching significant milestones in his recovery," a statement from Odom's family read, according to the Associated Press.