Watch a Man Fly a Hoverboard Through London in a 'Back to the Future Part II' Tribute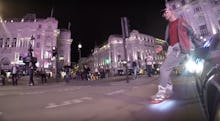 Wednesday, Oct. 21, 2015, isn't just another Hump Day. It's the exact time that Marty McFly and Doc Brown arrived in a flying DeLorean in a fictional version of the present day in Back to the Future Part II.
On Monday evening, English TV host Jason Bradbury celebrated the occasion by actually flying around London on what appeared to be a real hoverboard of sorts — not the Segway-like device popularized by celebrities like Wiz Khalifa. 
Photos and videos of the event show Bradbury appearing to float alongside a modified DeLorean brought out specifically for the event.
It sure looks an awful lot like Marty McFly's fictional hoverboard.
Bradbury did not respond to a request for comment from Mic, but it looks like the host was deploying some movie magic, not testing out a technological marvel from the future. His suspiciously bulky left sleeve appears to be hiding some kind of support used to dangle him off the side of the vehicle.
In the Back to the Future version of 2015, we've mastered recreational anti-gravity. In real life, we're not far behind: Engineers have successfully created devices capable of hovering over water and magnetic surfaces.
London's official stance on hoverboards is unclear, but earlier this month, law enforcement reminded the public that "self-balancing scooters" have been illegal for 180 years throughout the country.
h/t The Daily Dot