Who Is Carl Quintanilla? Quick Guide to CNBC Republican Debate Moderator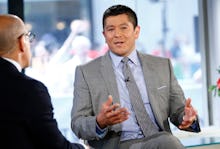 Emmy-winning CNBC anchor Carl Quintanilla will lead Wednesday night's CNBC Republican debate, being held at the University of Colorado Boulder. Quintanilla, along with fellow CNBC anchor Becky Quick and chief Washington correspondent John Harwood, will specifically focus on asking Republican presidential hopefuls questions surrounding the economy, job growth and government-funded programs like Medicaid, the Affordable Care Act and Social Security. 
Quintanilla's experience: The 45-year-old anchor graduated in 1993 from the University of Colorado Boulder, the same college he will be moderating Wednesday night's debate from, with a degree in political science. The journalist was honored with a Peabody Award in 2005 for his reporting on Hurricane Katrina, as well as an Emmy Award and an Edward R. Murrow Award along with fellow CNBC reporters for their team's coverage of the hurricane in New Orleans.
The debate, titled "Your Money, Your Vote: The CNBC Republican Presidential Debates," will be Quintanilla's first time moderating a presidential candidate debate, but it isn't his first time reporting on an election for the network. As one of CNBC's on-air personalities and anchors since 1999, Quintanilla's coverage of U.S. politics ranges from the economy to the food industry, with a variety of CNBC hour-long specials such as "The Money Chase: Inside Harvard Business School" and "Big Mac: Inside the McDonald's Empire."
Wednesday night's debate kicks off at 8 p.m. Eastern, and will air on CNBC, as well as live-streaming on the CNBC website.