Who Is Becky Quick? Your Guide to CNBC Republican Debate Moderator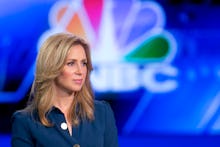 CNBC's Squawk Box co-anchor Becky Quick will moderate the third Republican presidential debate on Wednesday along with Squawk Alley co-anchor Carl Quintanilla and the network's chief Washington correspondent, John Harwood. 
Experience: Quick has been with CNBC since 2001. As an anchor on the network's financial talk show Squawk Box, she has interviewed investor giants Warren Buffett, Bill Gates and Jamie Dimon, among others, according to her profile on CNBC's site. Quick also has past experience interviewing powerful politicians, including three United States presidents, according to the site.
Before CNBC, Quick worked for seven years as a reporter for the Wall Street Journal, covered Wall Street for CNBC in collaboration with Dow Jones and wrote a column for Fortune, according to her Twitter bio and CNBC's site.
The American financial journalist graduated from Rutgers University, a public New Jersey state university, according to CNBC.
Her economic stance: It's unclear which political party Quick affiliates with, if any, but she famously attacked Nobel prize-winning economist and New York Times columnist Paul Krugman in a 2012 article for Fortune for arguing that there's no economic crisis. 
"The interest payments on all that debt are a potential tsunami of their own," Quick wrote in the Fortune critique. "We're spending $258 billion a year on interest payments for our massive debt." She concluded her critique by asserting that nobody agrees with Krugman. 
Wednesday's main debate will take place in at the University of Colorado Boulder starting at 8 p.m. Eastern. Dubbed "Your Money, Your Vote," the debate will focus on key economic issues including jobs, taxes and technology, CNBC reports.