SAE Fraternity Member Tried to Wage a Topless Rush Campaign Prompting Chapter to Apologize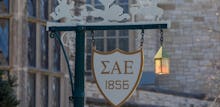 Fraternities frequently do stupid, blatantly sexist things for their own amusement. Rather than address the toxic behaviors and systems that perpetuate them, however, plenty of organizations seem content to retroactively apologize. The University of California, San Diego's Sigma Alpha Epsilon chapter did just that after recently being called out for its members' sexist behavior. 
The incident: Last week, a member of the SAE chapter of UCSD asked another student, Rachel Friedman, for help, the Huffington Post reported Tuesday.
"We have to get 'rush boobs,'" the SAE member told Friedman, referring to a widespread, fraternity-based challenge, which the site Total Frat Move defines as "convincing girls to write 'Rush (Insert Fraternity Here)' across their chests for promotional purposes."
The unidentified SAE member — who, according to NBC 7 News in the Bay Area, Friedman met at an event for the feminist organization Free the Nipple — then asked Friedman if she or her friends could participate, adding that he didn't "need faces I just need topless pics with 'Rush SAE' written on their chests." 
Friedman denied the request. 
"To be quite honest, I'm pretty offended that you even asked me that and I find the whole idea to be degrading," she responded, before posting a screenshot of the exchange on Facebook.
Friedman then sent the image to local media as an attempt to raise what she sees as a larger problem.
"It is common practice and goes along with the rape culture," she told NBC. "It is more common in Greek life than any other aspect."
Yet another apology: The chapter, which KNTV reports is now under investigation by the school's administration, issued an apology Oct. 15 on its Facebook page.
"Those responsible within our chapter are being dealt with accordingly," the chapter wrote. While only a few individuals were involved in "this degrading action," they claimed, the chapter and organization at large "does not condone objectifying women or the degradation of others for that matter." The chapter also claimed that each woman "affected by our member's actions" had been contacted and received an apology.
This incident adds to a growing legacy of sexist acts committed by similar organizations across the country. Fraternities have become strongly associated with acts ranging from perpetuating degrading and even lethal hazing incidents, to disproportionately committing sexual assault and beyond. It seems most of these organizations or members in question do to address these acts is issue a standard apology.
Another SAE member, Levi Pettit, similarly apologized after he was captured singing a racist chant on video in March. The Dartmouth College chapter of Alpha Delta apologized for hosting a "Bloods and Crips" party in July. And in 2013, a member of the Phi Kappa Tau fraternity at Georgia Tech apologized for referring to women as "rape bait."
Yet fraternities continue to commit offensive, degrading acts. This incident is clearly part of a larger problem than one fraternity's offensive behavior.
h/t Huffington Post