This Female-Run "Boob Shop" Is Redefining Breast Cancer Merch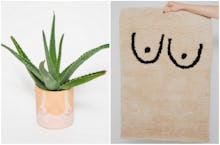 Merchandise to benefit breast cancer research usually consists of at least one of the following: a ribbon or a bright shade of pink. Pink ribbon magnets. Pink ribbon keychains. Pink ribbon cups. Pink ribbon stickers. Pink ribbon yoga pants. Pink ribbon teddy bears. Pink ribbon cookies. 
To quote the great Samantha Jones of Sex and the City: "They need something more inspirational or outrageous than a fucking cookie." 
Indeed. For the person who wants to support or donate to breast cancer research without necessarily covering themselves and their home with pink ribbons, the Boob Shop is here to help. 
An offshoot of the trendy San Francisco-based online store Lisa Says Gah, Boob Shop aims to redefine what breast cancer merchandise can look like. This October, for one month only, it's "a one-stop shop for all things boob," stocking a curated collection of slightly sarcastic, breast-referencing merchandise, with a portion of all proceeds donated to the University of California San Francisco's Helen Diller Family Comprehensive Cancer Center.
Within the breast cancer merchandise world, exactly how much of the proceeds are actually donated is quite the hot-button issue. What Boob Shop offers is wide range of products, with some clearly donating 15% of all proceeds and others, 100%.
Boob Shop also offers up distinctly different merch. So instead of a pink ribbon candle, Boob Shop customers could buy this vase with breasts:
Instead of a pink ribbon hair dryer, you could buy a dainty gold heart necklace that says "fuck cancer":
"The market is saturated with bright pink things or something with a ribbon on it, and that's just not something our consumer is going to engage with," Lisa Says Gah founder Lisa Williams told Mic. "We wanted to offer products our customers would be excited to purchase."
So, the brand targeted items that were extremely aesthetically pleasing and also gave back — and didn't simply skirt around the realities of breast cancer with a cheery color.
It's a sentiment expressed by critics of the current wave of breast cancer fundraising, who are tired of a market overrun with companies jumping on the pink ribbon bandwagon by simply using pink or cutesy breast puns without engaging in the issue.  
The idea for the month-long online pop-up can be traced back to Williams' friend Amanda Niello, who at 29 was diagnosed with stage two breast cancer. When Williams and Lisa Says Gah brand strategist Olivia La Roche heard the news earlier this year, they knew that they wanted to give back while also drawing attention to early breast cancer detection. 
"We decided we wanted to find a way to be active about what she was going through and help her share her story," La Roche told Mic. "And bring to awareness to the fact that this affects people under 45."
Through her diagnosis and treatment at the the UCSF center, Niello has been keeping an updated blog, titled "Thanks, I Have Cancer!" documenting her experience as a very young woman with the disease. 
"Amanda has this really beautiful way of speaking of really scary hard things with a lightheartedness," La Roche said. "These things still need to be talked about, and I think she brings a very humanizing element to the breast cancer treatment experience."
As Niello put it in an interview on the store's site:
"It can be quite hard to see the silver lining or humor in cancer, but that is something I decided I would be doing a lot of from the minute I was diagnosed. ... That being said, I think it's just as important to be honest about how you feel, and if there's a breakdown on its way, that's totally fair. It feels really good to cry or throw something or punch a pillow when things aren't going your way, so I say punch away! And then get your eye back on the prize."
That sass-streaked attitude is reflected in the Boob Shop's more darkly humorous merchandise, like a breast wall hanging, a rug with breasts and even a breast pillow, which women are free to punch away at.
With Lisa Says Gah's Boob Shop only operating through October, that leaves an opening for shops across the country — and the world — to step up and create options for women who want to celebrate their strength or the strength of their loved ones, all while giving back.