Babyface New Album 2015: Tracklist, Release Date and Info on 'Return of the Tender Lover'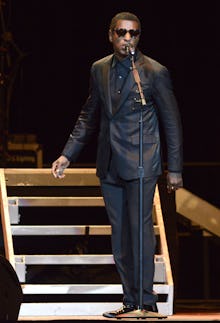 After an eight-year hiatus from solo work, American R&B musician and 11-time Grammy Award-winner Kenneth Edmond, aka Babyface, is gearing up to release his 10th studio album. After such a long pause, the 56-year-old musician is having a comeback moment with his forthcoming album Return of the Tender Lover. The record will be available for pre-sale on Nov. 13 with a release date of Dec. 4, Entertainment Weekly reports.
So far, Edmond has made one track off Return of the Tender Lover available, "We've Got Love," online via Vevo. Though the video lacks nuanced graphic components, it shares the track's lyrics and sets an upbeat tone for the record to come.
"I keep thinking 'bout it," Edmond sings. "Ain't no way way around it/ We got something that the world just can't explain/ It was the one thing that makes it always work out/ It's 'cause we've got love, love, love, love, love."
As a bonus, the musician posted a clip of a snippet of the single to Facebook:
Tracklist and more: Though Edmond hasn't released a solo LP in quite some time, the R&B legend did team up with R&B singer Toni Braxton last year. In February 2014, the two released a joint album called Love, Marriage & Divorce. The last record Edmond released prior to that collaboration was 2007's Playlist, Entertainment Weekly reports. Return of the Tender Lover will feature eight new, original songs, per a press release, plus some well-loved hits like "It's No Crime," "Tender Lover," "Whip Appeal" and "My Kinda Girl."
Fresh off a tour in South Africa, Edmond will continue traveling in the United States until December and will add future dates to his tour schedule to promote his forthcoming album, according to the release. For those unfamiliar with the established musician, check out a retro video of one of his biggest hits in the '80s, "Whip Appeal."