Best Jobs for Work-Life Balance? Glassdoor Ranks the Top 25 Jobs for Those Who Want a Life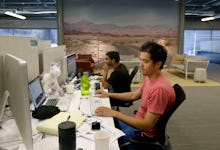 Though workers in the United States have increasingly struggled to achieve the elusive "work-life balance," there are still jobs out there that allow employees to have it all, according to the recruiting site Glassdoor.
The site released a list on Tuesday that ranks the top 25 "best jobs for work-life balance," based on crowdsourced employee reviews posted to the site over the past year. The ranking is based on reviews on a 1 to 5 scale, "very dissatisfied" to "very satisfied." The list provides the average salary and job openings for each position as well. 
According to Glassdoor, data scientist ranked No. 1 for work-life balance at a rating of 4.2 and is one of the highest-paid positions on the list at an average salary of over $114,000. The lowest-paid position on the list is substitute teacher at $24,000, however the job ranked high on the list in terms of work-life balance at No. 5.
Software developer, ranking at No. 24 with a 3.7 rating for work-life balance, offers the most job openings on the list — 3,330. Some other jobs that made the cut include SEO manager, civil engineer, web designer and research technician. The full list can be seen here. 
Overall, the U.S. isn't doing so hot when it comes to a satisfied work force. According to the Organization for Economic Cooperation and Development, the U.S. ranks 29 in a list of 36 countries in terms of workers' work-life balance (the list took into account things like social activities and work hours): 
Glassdoor published a similar list last year, ranking 20 of the best work-life jobs of 2014 with data scientist steady at No. 1. While all positions on this year's list require a college degree, last year's list included several positions that don't — "group fitness instructor," "lifeguard" and "tour guide" were all on the 2014 list. 
In January, U.S. News and World Report ranked the six best jobs for work-life balance that offered "the lowest stress and highest schedule flexibility." The only position that made both the U.S. News and World Report list and Glassdoor's 2015 list was "web developer."
Some other positions on U.S. News and World Report's list include "recreation and fitness worker," which was featured on Glassdoor's 2014 list, "office clerk" and "massage therapist."