The History of One of the Most Popular Games, 'Minecraft'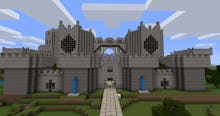 When you enter the world of Minecraft, you're entering a digital world bigger than the Earth's surface.
The game's appeal lies in a simple set of premises: Log in, enter a world composed entirely of 3-D cubes, then use a pickaxe and other tools to collect or manipulate these blocks. You can either play in creative or survival mode.
Tens of millions of players have reconstructed Neuschwanstein Castle, devised elaborate dungeons and puzzles and waged war against legions of skeletons in ways that reach a level of artistry. This quirky game became a hit for a few key reasons that have everything to do with unlocking the creativity of the players involved.
"The freedom the game setting allowed for in terms of difficulty and variability of world interaction interspersed with the variability of landscape and climate were incredibly well-balanced," five-year Minecraft player T.J. Checco told Mic. 
Minecraft was never meant to be a hit. In 2009, Swedish game developer Markus "Notch" Alexej Persson realized that a simple (but dynamic) game could have incredible potential. He began to release versions of what was then called "the cave." The game wasn't a pop culture success and tended to attract players with background knowledge in programming and computers. Since then, it's been re-released as Minecraft and sold over 70 million copies, more copies than any other PC game in history.
Gamer and engineer Aaron Goers, 26, said he started playing Minecraft five years ago, right before it went into beta. Goers, who works as a technology coordinator at Speed Stacks Inc., has been playing PC games for over 15 years and has logged more than 500 hours on Minecraft.
"Aside from the very early additions to the game, I've watched the whole thing evolve as I played," he said. "As far as big software changes, the largest and likely most underappreciated was their change to what they called the Anvil database system."
It made a big world more efficient. The Anvil database system, introduced in 2012, included an overhaul of how data was processed and uploaded, making the Minecraft worlds much bigger and faster than before. According to one user's calculation, one Minecraft world is eight times the Earth's surface area, which was a critical change as more and more players got onboard.
With the database and mechanics streamlined and a wealth of players with high-end PCs prepped for hosting servers, Minecraft's greatest innovation took off. Users began creating modifications and sharing them with other players.
The cross-compatibility between machines allowed players on a range of PCs to take part in this process. The various online social platforms gave players a variety of ways to share the bounty. They could watch instructive videos on YouTube or Twitch, discuss their tinkerings on forums, Reddit and Facebook and formalize their knowledge in the immense Minecraft Wiki.
Like many other gamers, Goers has long enjoyed being able to customize his own PC to enhance his experience. He's built five computers so far and loves the freedom he has to pick and choose what goes into his PC in a modular way. 
Goers said Minecraft became popular because it accommodates people who are using different kinds of hardware. The game's simplicity means an amateur can play it on an inexpensive console, but gamers with better machines can get into activities like designing complicated mods and hosting their own servers.
"Being able to customize a computer to that level is a lot of fun, and it's especially useful for gaming," Goers said. "PC is the only way to play."
Today, there are often over 1 million active users playing Minecraft at any given time. The mod forum on Minecraftforum.net is by far the most popular, with over 4 million posts ranging from easy tweaks like new tools or ways to craft swords to aesthetic ones like jack-o'-lanterns for Halloween to elaborate scenarios within the game itself. While the creators of the mods need to have significant knowledge and experience with programming, the entire community can enjoy them.
The latest addition to the Minecraft universe is the introduction of a "Story Mode" version of the game. Released by Telltale Games in association with the original studio Mojang, it allows players to engage in a narrative structure. Story Mode is split into episodes that last for two to three hours, and new episodes will be released periodically until 2016. This version creates a full story for players to exist in, allowing them to get creative within a set story in a way that has never existed before in Minecraft. 
The Washington Post's Michael Thomsen said the game "uses the mimetic architecture of storytelling to produce nodes of contemplation and self-inquiry. It's a subtle and sweet work made with an awareness that the best part of a journey comes when you realize you are in a story." 
This version is not the new and only way of playing Minecraft. Rather, it's another outgrowth from an incredibly fertile ground that shows no signs of weakening.
Minecraft's power lies in its ability to be flexible and compatible and to let users be creative.