Austria Just Legislated Hoverboards — Even Though They Don't Really Exist Yet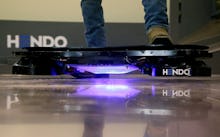 It is on this day, Oct. 21, 2015, that the plot of Back to the Future II properly begins, as Doc Brown and Marty McFly fast-forward 26 years to a world replete with flying cars, hoverboards and some prophesied version of the Samsung Gear VR.
Though present-day reality doesn't quite match Back to the Future II's, the Austrian government appears to believe it is imminent, given they applied existing legislation Tuesday on yet-to-be-invented hoverboards. 
The Austrian Ministry for Transport, Innovation and Technology announced in an article that hoverboards would be regarded as "small off-road vehicles" and permitted "anywhere a skateboard is," Agence France-Presse reports.
The department went into some detail in its post, explaining the law applies to the futuristic mode of transport whether or not it has handlebars. 
The classification does, however, change for Pit Bull hoverboards, which use rockets. "Use of this model would require a pilot's certificate and flight authorization, and a nautical permit if it was to be used on water," AFP reports.
"Well, we were just taking a look at the laws and thinking about how it would apply to hoverboards, so we wrote an article as a joke," Christoph Heshmatpour from the Ministry of Transport in Vienna told Mic, after recovering from laughter. 
While hoverboards don't exist quite like the one Marty McFly made his quick getaway on, some companies are inching closer to such an invention. Hendo, for example, has created a board that works on a special type of surface, using opposing magnetic fields to lift the board and rider.
"We asked some of our legislation experts at the Ministry of Transport how Austrian laws would apply if the hover board existed," Heshmatpour wrote in a follow-up email. "Then we put together some Frequently Asked Questions ('Where can I use the hover board?,' 'Do I need a driver's license?' etc.)." 
"I had the idea last summer that we could generate some media attention around the 21st of October when Marty McFly would arrive in the future," he said. "I honestly didn't expect it to explode like that. All mainstream Austrian media covered the story, most of Germany and apparently a lot of international news organizations as well, as I just found out" — a message he followed with a smiley face emoticon. 
Great Scott, Austria. Great Scott.