Adele Confirms New Album Is Titled '25,' Calls It a "Make-Up Record"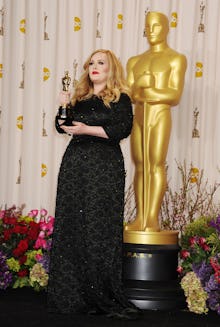 Give Adele credit: Her promotional tour is as heartfelt and personal as her music.
On Saturday, the world was stunned by a simple "hello" when the British superstar artist teased new music in an advertisement that aired during The X-Factor. Wednesday, Adele excited fans further by tweeting an open letter that confirms several details about her new album. Keeping in tradition with her other records, 19 and 21, Adele's new work will be called 25, named after the period in which she wrote and recorded it. (She's now 27.)
"When I was 7, I wanted to be 8," she wrote in the letter. "When I was 8, I wanted to be 12. When I turned 12, I just wanted to be 18. Then after that, I stopped wanting to be older. Now I'm ticking 16-24 boxes just to see if I can blag it!"
Adele's note is a melancholy one, wistfully pondering how she's spent her life wishing for other things. In that vein, she says, and in contrast to her last record being a "break-up" album, she calls 25 "a make-up record."
"I'm making up with myself," she said in the letter. "Making up for lost time. Making up for everything I ever did and never did. But I haven't got time to hold on to the crumbs of my past like I used to. What's done is done."
This sentiment is in keeping with the lyrics of the song she teased on The X-Factor. In that so-far untitled song, she sings, "Hello, it's me/ I was wondering/ If after all these years/ You'd like to meet me/ To go over everything." Initially, it seemed as if she was addressing an old lover, as would fit 21's thesis. This new information, however, makes it clear: Adele is finally meeting herself.
"Turning 25 was a turning point for me, slap bang in the middle of my twenties," she wrote. "I made the decision to go into becoming who I'm going to be forever without a removal van of my old junk. ... 25 is about getting to know who I've become without realizing."
Thursday, Adele announced in an Instagram post that the album is dropping Nov. 20. Though Spin first reported that, according to BBC Radio 1, the first single will be released Oct. 30, it's actually coming even sooner: this Friday. 
In a post-Beyoncé era of surprise albums, it shouldn't come as a surprise that, like Adele's hit song "Someone Like You," 25 is just showing up out of the blue, uninvited. 
Knowing new music is just around the corner is especially thrilling considering Adele's been teasing 25 since May 2014 — and the last new music we heard from her was "Skyfall" in 2012.
"I'm sorry it took so long," she wrote at the end of her note. "But you know, life happened." If 25 is anywhere near as good and successful as 21 was, we can confidently say all will be forgiven.
Oct. 22, 2015, 11:20 a.m.: This story has been updated.