Ahmed Mohamed Is Moving to Qatar With His Family For Scholarship Opportunity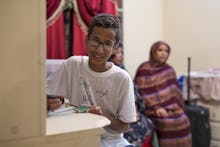 Ahmed Mohamed, the 14-year-old Muslim student whose arrest in September sparked national outrage after the faculty at his Irving, Texas, high school confused his homemade clock for a bomb, is moving to Qatar with his family — for a scholarship opportunity.
After visiting the Qatar Foundation, a nonprofit organization for education, science and community development, Ahmed accepted a scholarship to its Young Innovators Program, which "supports young, exceptional Arabs by offering education opportunities in Qatar," according to the group's press release. 
"I was really impressed with everything that Qatar Foundation has to offer and the campuses are really cool," Mohamed said after his visit earlier this month, according to the press release. "I got to meet other kids who are also really interested in science and technology. I think I will learn a lot and also have lots of fun there."
Mohamed will be one of over 6,000 students attending one of the Qatar Foundation schools, whose partners include Qatar campuses of various U.S. universities including Carnegie Mellon University, Texas A&M University and Weill Cornell Medical College, per the press release. 
In pursuing the program, Mohamed follows in the footsteps of other impressive young Arab intellectuals. Iqbal Al Assad become one of the youngest doctors in the world when she received her medical degree at age 20 from Weill Cornell Medical College in Qatar through the Qatar Foundation in 2013, the National reports. 
After his arrest received national attention, manifesting the viral hashtag #IStandWithAhmed, Mohamed received invitations to visit the Massachusetts Institute of Technology, Harvard University and most recently, the White House. Mohamed was invited to the White House's astronomy night Monday, where he met President Barack Obama. 
"I felt really happy that I got support from the president," Mohamed told the Dallas Morning News, in anticipation of his visit. "It's really amazing that he helped me."