Beyonce and Nicki Minaj Perform "Feeling Myself" for First Time at Tidal X: 10/20 Event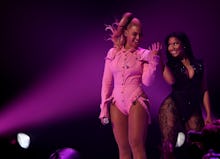 Beyoncé and Nicki Minaj lit the stage on fire Tuesday night at Barclay's Center in a surprise joint performance of their hit single "Feeling Myself" live for the first time at the Tidal X: 10/20 event, reminding the world the two queens of hip-hop will forever be the ultimate #SquadGoals.
Minaj's performance was one of the last sets of the concert, the first of an annual event Jay Z's music streaming service will have to celebrate the company's rising artists and biggest names. The rapper began her solo performance of the duo's latest single, surrounded by a crew of dancers spinning and twerking simultaneously. 
The New York rapper was performing her verse of the single when a group of women dressed in pink uniforms took the stage with their backs turned to the crowd. Lo and behold, Beyoncé spun around, flashing a smile as the crowd erupted in applause.
The two then performed their never-before-heard live version of the song, along with some intense choreography that was perfectly in unison. The performance was part of a multi-artist concert put on by Tidal in honor of the streaming service reaching over one million subscribers, and will be the first of an annual tradition, Jay Z told the crowd. Philadelphia-based rapper Meek Mill, Minaj's boyfriend, took the stage surrounded by fellow artists French Montana, DJ Khaled and Rick Ross, while Jay Z, the founder of Tidal and Beyoncé's husband, closed the night with "Empire State of Mind," and thanked fans for coming out to the charity event.
All of the proceeds from Tuesday night's event — which Tidal decided to match in a joint donation — benefitted The New World Foundation, an organization that supports social movements and funds several charities.