Zendaya Just Shut Down a Magazine that Airbrushed Her Photo Like the Inspiring Boss She Is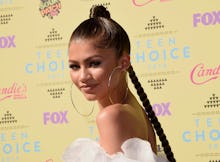 Zendaya is a boss. We all know this. This is a fact. So when the 19-year-old singer and actress shut down a magazine's attempted Photoshop of her on Tuesday night, nothing was amiss. 
In her recent spread for Modeliste Magazine, Zendaya noticed an image where her waist and hips were slimmed way, way down. Rather than staying silent, she posted the image on Instagram next to the unretouched image to shine light on the dangers of impossible body standards. 
"Had a new shoot come out today and was shocked when I found my 19-year-old hips and torso quite manipulated," she wrote. "These are the things that make women self-conscious, that create the unrealistic ideals of beauty that we have. Anyone who knows who I am knows I stand for honest and pure self love." 
She went one step further and endorsed the Photoshop-free image of herself, saying, "I took it upon myself to release the real pic (right side) and I love it."
At the end of the post, Zendaya gave credit to Modeliste for ultimately taking down the image and fixing the retouching issue.
But it's the opportunity to make her point that's the most notable. With her latest stance, Zendaya joins the ranks of celebrities and models saying "fuck you" to Photoshop, from Emma Roberts, who recently posed in a campaign free of all airbrushing, to Kate Winslet, who was calling out unrealistic retouching as early as 2003. 
Zendaya, our beauty standards champion: This is yet another instance (just this year!) of Zendaya taking to social media to call out some of the larger societal issues that plague us in a straightforward, educational way. In June, she shut down a sexist troll on Twitter with an epic tweet. 
Later that month, she fired back in the greatest #IDGAF way possible at the people on Twitter who were hating on her pixie-styled wig for the BET Awards. 
The hair comment was preceded by another more memorable one: On the Academy Awards' red carpet in February, Fashion Police commentator Giuliana Rancic infamously said that Zendaya, who was wearing dreadlocks, must have smelled like "patchouli" and "weed." 
The then-18-year-old quickly posted on Instagram to call out Rancic's comments, saying they were "ignorant slurs and pure disrespect." 
Exhausted yet? Finally, in late August, even Zendaya's parents came under fire. When Twitter trolls decided to zero in on her parents, calling them "ugly," she responded on Twitter with a beautiful ode to her parents.
"While you're so concerned about what my parents look like, please know that these are two of the most selfless people in the world," she said. "They have chosen to spend their entire life, not worried about trivial things such as looks and insulting people's parents on Twitter, but instead became educators who have dedicated their lives to teaching, cultivating and filling young shallow minds."
She also took on the issue of cultural appropriation, telling Nylon magazine in July, "You can go about it as cultural appreciation or cultural appropriation."
Wisely, she called for a more instructive conversation around the issue. "You have to be very careful," she said. "Some things are really sacred and important to other cultures, so you have to be aware, politically, about those things before you just adopt them."
In short, Zendaya is no stranger to criticism and the female beauty standards surrounding all women — and she is passionate about skillfully turning these interactions into opportunities for education.
A new type of teen: Not even out of her teen years, Zendaya has consistently been a force for good in the entertainment industry, situating herself among the likes of 16-year-old Amandla Stenberg, who's come to be a knowledgeable source on things like cultural appropriation and how to shut down racist trolls. The same goes for 14-year-old Rowan Blanchard in regards to intersectional feminism and gender norms.
Realizing her platform, Zendaya has used every opportunity to present a more accepting, open, realistic image of beauty to girls. Hell, those dreadlocks that Rancic commented on have now been immortalized in the form of a Barbie doll.
This new wave of young stars are remarkably intelligent and outspoken on precisely the right issues we should be regularly concerned with — and more than capable of educating their fans and shutting down some trolls. 
We welcome them with open arms. 
h/t Cosmopolitan