Paul Ryan Willing To Run For House Speaker if the GOP Unifies Behind Him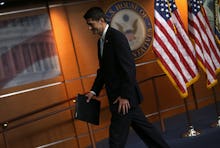 Rep. Paul Ryan of Wisconsin is open to running for speaker of the House, but only if Republican members agree to a few specific concessions.
Ryan has been under tremendous pressure to run for speaker by the party for weeks, after sitting Speaker Rep. John Boehner of Ohio announced in September his intention to resign. Boehner has said he'll stay put until the House finds his replacement, and establishment Republicans believe Ryan is the only member capable of leading the Republican caucus after House Majority Leader Kevin McCarthy dropped out of the race this month while facing backlash from the party's conservative wing.
After weeks of firmly stating he did not want to run, Ryan on Wednesday laid out the conditions under which he would run at a private GOP House meeting. 
The conditions: Ryan is willing to run, spokesman Brendan Buck told CNN on Wednesday, contingent upon the support of three House Republican groups: the House Freedom Congress, the Republican Study Committee and the Tuesday Group.
Ryan also wants to switch up House rules in his favor. He wants a better work-life balance than Boehner had and wants it to be harder to remove a sitting speaker, which is one of the House Freedom Caucus' main goals.
He also stressed the importance of unanimous support behind the future speaker. 
Under those conditions, Ryan told his fellow House members he's "happy and willing to get to work," a GOP source relayed to CNN from Wednesday's insider meeting.
Rumors that Ryan was thinking of running surfaced in early October, when Utah Rep. Chris Stewart told CNN Ryan was "thinking and praying on it" — though Buck told Politico at the time that Ryan "appreciates the support" but "still isn't running for speaker."
Ryan was on former Massachusetts Gov. Mitt Romney's presidential ticket as his vice president in 2012 and is the current chairman of the Ways and Means Committee, the House's chief tax-writing committee.