Nearly Half of Republicans Now Think Donald Trump Will Actually Win the Nomination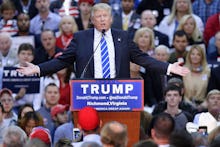 For more than three months, from the early part of July through early fall, Donald Trump has led the Republican primary field. Now, as the contest enters the crucial final months before voting begins early next year, the boisterous billionaire is again rising in the polls.
A new ABC News/Washington Post survey of GOP voters shows Trump with 32% support, bringing him back toward his high-water mark from early September. Perhaps more importantly, the poll finds that more than 4 in 10 Republicans expect Trump will win the party's presidential nomination. Forty-three percent say he is the best positioned of the GOP candidates to win a general election showdown with the eventual Democratic nominee: 
Ironically, the poll also includes some good news for Trump's most vocal establishment rival. Former Florida Gov. Jeb Bush, despite registering only 7% in the main competition, does relatively well in the expectations game. Twelve percent say he is the most likely primary winner, and 13% believe Bush is the party's best bet to win in November 2016.
If the electorate does eventually stray from Trump and fellow political outsider Dr. Ben Carson — which is not guaranteed — Bush seems to be the favorite among voters who simply want to see a Republican in the White House, slightly ahead of Florida Sen. Marco Rubio.
Trump reacted to Wednesday's poll numbers precisely as one might expect — ignoring the nuances and unleashing a new flurry of attacks on Bush. He called in to ABC's Good Morning America on Wednesday for a familiar round of gloating, interspersed with jabs at Bush, who has left himself vulnerable after throwing some tactically dubious haymakers at Trump.
"Well, look, Jeb has had a very hard time," Trump said on Good Morning America. "He's way down in the polls. He's doing very poorly. He's embarrassed by what's happening. So he has to attack me to try to get his numbers up. ... The last thing we need is another Bush. We've seen what happens."
This latest volley comes in response to an op-ed Bush published in National Review on Tuesday. In the piece, Bush compared Trump to the liberal documentarian Michael Moore, saying he "echoes" the filmmaker's "attacks," and those that "the fringe Left [has leveled] against my brother." 
"Let's be clear," Bush wrote. "Donald Trump simply doesn't know what he's talking about. And his bluster overcompensates for a shocking lack of knowledge on the complex national-security challenges that will confront the next president of the United States."
Whatever Trump might lack in strategic thinking on the foreign policy front, Wednesday's poll shows him with a distinct advantage over Bush and the rest of the GOP field, to varying degrees, when it comes to the question of who "best understands the problems of people like you."
Born into spectacular wealth and privilege, Trump still manages to enjoy a double-digit lead there, with 29% saying he "understands" better than anyone else in the field. Carson is second at 19% and Bush, the son of one president and brother of another, registers only 10%.