Marco Rubio vs. Jeb Bush: The Generational Clash That May Determine the GOP's Future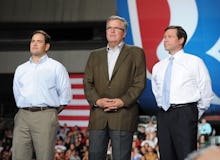 "You know the difference in Democrats and Republicans?" former President Bill Clinton once asked a group of voters on the campaign trail. "In every presidential election, Democrats want to fall in love. Republicans just fall in line."
At least, they used to.
The campaign for the Republican presidential nomination has broken the mold with the sheer number of candidates, the strength of the insurgent contestants and the aggressiveness of intra-party rhetoric. But in the gladiatorial battle over the party's future, perhaps no greater conflict looms than the generational showdown between former Gov. Jeb Bush and Sen. Marco Rubio.
The two Floridians, currently jockeying within the margin of error for third place among national Republicans, represent two roads the Republican Party might take to the White House: one, along the familiar Republican route of nominating a party elder; the other, down a path usually taken by Democrats, nominating a young, invigorating candidate who can repackage the party for a new generation of voters.
A huge historical shift — and a huge opportunity: Historically, Democrats have been the ones to open their arms to new-generation candidates for the White House — think successful nominees John F. Kennedy, Bill Clinton and Barack Obama. The Republican Party, meanwhile, tends to nominate candidates who fit a relatively narrow profile: current or former governors (George W. Bush, Ronald Reagan); vice presidents (Richard Nixon, George H.W. Bush); or the person who came in second in the previous Republican primary contest (Mitt Romney*, John McCain, Reagan again). 
These de facto prerequisites for candidate resumes show a tendency to tip the scales in favor of older Republican candidates: Since 1972, the Republican Party has only chosen a single nominee who was younger than his Democratic opponent.
This campaign cycle, however, the roles of Elder Statesman vs. Brazen Newcomer have been reversed. Of the two viable Democratic candidates, former Secretary of State Hillary Clinton would be 69 on Inauguration Day, and Sen. Bernie Sanders of Vermont would be 75, the oldest person in history to assume the Oval Office. 
Meanwhile, the Republican Party has more young blood on its bench than ever before. The average age of the Republican field is about a decade lower than that of the Democrats, with four candidates (five, if you count the recently departed Wisconsin Gov. Scott Walker) younger than 50 running for the White House.
The youngest field in generations may be the key to breaking the Republican Party out of its eight-year funk. In the wake of the disastrous 2012 Republican primaries, which showcased an internecine struggle between Wall Street bigwigs, religious conservatives and tea party activists for control of the Republican Party's future, the party crafted a 97-page postmortem that singled out the party's inability to deliver its core message to new voters:
For the GOP to appeal to younger voters, we do not have to agree on every issue, but we do need to make sure young people do not see the party as totally intolerant of alternative points of view. ... If our party is not welcoming and inclusive, young people and increasingly other voters will continue to tune us out.
The nomination of a younger candidate is seen by many within the party as a chance for the Republicans to connect with a generation of voters that have been alienated by some of the party's rhetoric. 
Liz Mair, a high-profile Republican strategist who previously worked for Walker and the Republican National Committee, told Mic that, while predicting who will emerge as the GOP nominee is a fool's errand, "I see a few factors that put Rubio in a better position than some candidates. He has a very compelling personal story, makes nearly everyone who hears him feel good about America and being American." 
Rubio "cuts a youthful, fresh profile," Mair said, a valuable trait in a party long stereotyped as being more accommodating to old white men than, well, anyone else.
There's no younger blood than Rubio: The second-youngest candidate in the Republican field (after soon-to-be-former-candidate Gov. Bobby Jindal), the junior Florida senator has made his youth the touchstone of his campaign, framing the debate over the Republican Party's future as a generational battle for the 21st century. 
Although Rubio can occasionally be seen poking fun at his relative youth (at an April town hall event in Los Angeles, the candidate noted that he had a birthday coming up. "I'll actually be 44 in about three weeks," he said sheepishly, "but I feel 45!"), he has largely embraced his age as a chance to steer the Republican Party in a fresh direction.
"Our nation stands at a hinge moment in our history where we must decide once again, do we want to embrace the future or be left behind by history?" Rubio said later at the same April event. "We cannot embrace this future led by people who are trapped in yesterday. Turning the page is what we need to do as a nation and a society."
Famously well-spoken and quick on his feet, Rubio seldom misses an opportunity to highlight this freshness, frequently couching his push for a modern Republican Party in his own compelling biography as the son of Cuban immigrants. 
"We should be proud of our history," Rubio said in April, reiterating a now-familiar part of his stump speech, "but yesterday is over, and it is never going to come back. Before us now is the exciting opportunity to usher in the greatest chapter in the story of America."
Rubio's campaign is equally invested in the candidate's emphasis on the necessity of a generational shift within the Republican Party. "Suffice to say, we believe Republicans are ready to turn the page and elect a new generation of conservative leadership," Rubio campaign spokesman Alex Conant told Mic.
Rubio has marketed himself as someone more than willing to seize that opportunity. After famously announcing the impending retirement of Speaker of the House John Boehner during a speech at the Values Voter Summit in September, Rubio reminded the exuberant audience that changing congressional leadership was only the first step in cleaning house within the Republican Party:
Rubio's focus on the "next generation" narrative has yielded consistent, growing support in the polls. The latest ABC News/Washington Post poll shows the Florida senator as the only non-Trump/Carson candidate polling in double digits among registered Republican-leaning voters. According to Public Policy Polling's latest data in New Hampshire, the nation's first primary state, Rubio is polling in second place, having gained eight percentage points in the past two months.
Youth or "inexperience"? Many of Rubio's many primary opponents see his age as a liability rather than an asset, and stand to gain a great deal by painting the Florida senator as a greenhorn. 
"Bear in mind — as Rubio's people surely do — that while youthful outlook, appearance, et cetera, help Rubio, they can also hurt him," Mair said. "Especially if the perception is that he's completely lacking in relevant experience and/or knowledge, and just hasn't seen enough of life to be well-suited for the presidency."
Of those candidates primed to challenge Rubio on his age, fellow Floridian Jeb Bush has appeared the most eager to do so.
Before the campaign for the nomination began, Bush and Rubio enjoyed an amiable relationship, one which extends back to the late '90s, when then-gubernatorial candidate Bush called 26-year-old Rubio to congratulate him on winning a commission seat in the small city of West Miami. In the years since, Bush has served as a political mentor and Rubio as a loyal acolyte, vowing in 2010 not to run for the Senate seat he currently occupies if the former governor decided to run for it himself. (For those hoping the pair could team up as presidential and vice presidential nominees, forget it — due to the particularities of our electoral system, Florida's electors could not vote for a ticket that featured two Floridians.)
The fellow Sunshine Staters have largely avoided mentioning each other on the campaign trail, but remarks at the beginning of October indicate that the relationship between mentor and protégé is beginning to fray. In an interview with CNN in late September, the former governor subtly compared Rubio to the White House's current occupant, another skilled orator who ran for president with less than a single full term in the U.S. Senate to his name.
"Look, we had a president who came in and said the same kind of thing — new and improved, hope and change — and he didn't have the leadership skills to fix things," Bush said. "What we need is someone with proven leadership to fix things, and I believe I have those skills."
The next day, Bush went even further in his criticism of Rubio's age and perceived inexperience, telling Bloomberg's John Heilemann on MSNBC's Morning Joe that "it's not known" whether Rubio has the leadership skills to be president. 
Even Jeb Bush Jr. has gotten in on the game, reminding a group of college students that Rubio has missed numerous senate votes due to his campaign schedule. "He's missing, like, 35% of his votes," Bush Jr. said. "And it's just, kind of, like, dude, you know, either drop out or do something, but we're paying you to do something, it ain't run for president,"
Bush, who hasn't held elected office since the invention of the iPhone, is combating a massive dip in the polls since he first announced his candidacy. Struggling for oxygen in the Trump/Carson algal bloom, the Bush campaign may see the surging Rubio as a threat to his position as the "sanity vote." With memories of Rubio's youth working against him in the state legislature (the boyish candidate was mistaken for an aide three years after he was first elected), citing the Florida senator's youth and inexperience may be too tantalizing an opportunity to pass up.
But voters, for their part, don't seem to be bothered by Rubio's youth. In a Bloomberg Politics/St. Anselm University poll released Wednesday morning, only 11% of Republican New Hampshire primary voters say that Rubio's age would make them less supportive of his candidacy, with 87% shrugging off his age as immaterial to their support.
Note: Mitt Romney had won the second-highest number of delegates at the time he dropped out of the race, but was later passed in delegate number by former Arkansas Gov. Mike Huckabee.