Bindi Irwin Nails 'Dirty Dancing' Lift on 'Dancing With the Stars'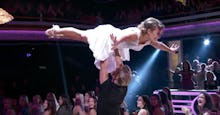 Nobody puts Bindi Irwin in the corner.
Dancing With the Stars contestants Irwin and professional dance partner Derek Hough recreated the famous lift from the 1987 cult classic Dirty Dancing during their performance on Monday's episode to the film's popular song "I've Had the Time of My Life" — and aced it. The team earned a standing ovation and unanimous perfect scores from the judges for their flawless execution of the iconic routine.
The 17-year-old daughter of late crocodile hunter Steve Irwin has been making waves on the 21st season of Dancing With the Stars, particularly when she and Hough performed a contemporary dance inspired by her father to the Police's "Every Breath You Take" on the show's Oct. 5 episode. 
"What shaped me the most would probably be when my dad passed away," Irwin said on the show just before her tribute. "It's been nine years, and I've never really dwelled on that point when he did pass away. I think I'm ready to kind of tell that story."
Watch Irwin's dirty dance from Monday's episode below: