Maine Is Literally Dropping Fish Out of Low-Flying Airplanes, and It's Mesmerizing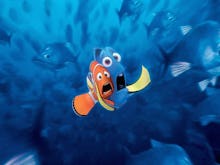 Video of a man "aerial dropping" live fish into a pond from a low-flying plane has become a minor sensation after the footage was uploaded to the Facebook page of the Maine Department of Inland Fisheries and Wildlife. The video has so far gotten more than 25,000 views.
"The department annually stocks over 1 million fish throughout the state, utilizing a variety of methods that include flying fish by airplane into remote ponds," the department wrote in the video description. "The fish are loaded into tanks that are attached to the pontoons on the aircraft, stocking locations are verified and then the planes take off. The tanks are then emptied when flying over the water. The department generally stocks over 180 waters each year by airplane."
The actual video of that drop is unfortunately on the duller side of lame, but the process mostly looks like this:
The fish drop process begs one inescapable question: "What?"
"Freshwater fishing in Maine contributes over $300 million to the economy each year," spokesman Mark Latti of the Department of Inland Fisheries and Wildlife told Mic. Latti added that keeping the industry going means making sure hard-to-reach inland ponds remain fully stocked with fish. "A lot of times there's not enough spawning habitat," he said.
The solution: Farmed fish are artificially placed into habitats so that they can be caught by fishermen later. 
The fish is are mostly varieties of trout raised from wild stock and bred in eight hatcheries around the state. Despite being easy to catch and delicious to eat, the fish can be coy about reproducing in stagnant water. "They need a gravelly bottom, they need some current, those are the ideal conditions for trout eggs to hatch," Latti said. So the department breeds the fish itself, then drops them in the wild once they're mature.
But do the fish like it? 
It's hard to say. According Latti, the state, which has been restocking fish supplies with aerial drops for decades, has in the past sent divers to examine the effects of the practice.
"It works well," he said. "They go into the water and they swim away."