Federal Court Issues Scathing Decision Against DEA's War on Medical Marijuana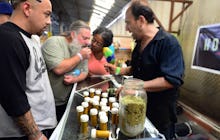 A federal court has ordered the Drug Enforcement Agency to halt its raids on California's medical marijuana dispensaries in one of the clearest signs yet that the agency is losing its war on legal pot.  
The Washington Post reports the "scathing" decision in favor of the Marin Alliance for Medical Marijuana came from northern California U.S. District Court Judge Charles Breyer, who ruled the DEA's stance was, as sponsors of the Rohrabacher-Farr amendment asserted, a "tortuous twisting" of that 2014 text.
That amendment inserted a provision prohibiting the Justice Department from using any federal monies to prevent states with legal medical marijuana from "implementing their own state laws that authorize the use, distribution, possession or cultivation of medical marijuana." The DEA argued the amendment only prohibited the agency from taking action against state governments, not individuals and businesses involved in the marijuana trade, which remains officially illegal under federal law.
Judge Breyer ruled MAMM and its owner, Lynette Shaw, complied with California state law and dismissed an injunction against them.
The decision likely means the DEA will have to stop raiding California marijuana dispensaries, as well as cease seizing cash, equipment, cannabis and records from them, except in exceptional cases where state law is clearly being violated.
In the ruling, the judge wrote the DEA's position "defies language and logic," is "at odds with fundamental notions of the rule of law" and is "counterintuitive and opportunistic." He added that of the cases cited to support the DEA's argument, "none are analogous or even particularly favorable to the government's position."
"It's great to see the judicial branch finally starting to hold the Justice Department accountable for its willful violation of Congress's intent to end federal interference with state medical marijuana laws," Marijuana Majority's Tom Angell told Mic in a statement via email. "I hope the Obama administration takes this ruling to heart and makes sure DEA and federal prosecutors finally stop trying to stand between patients and their medicine."
"The Justice Department looks really silly for first trying to play up the law's implications to scare Congress away from passing it and then pretending it had no real impact once lawmakers ignored them," Angell added, referring to leaked memos showing the DEA told legislators the amendment would severely hamper their ability to enforce recreational marijuana prohibition.
A Gallup poll released Wednesday shows 58% of the U.S. public is in favor of legalizing recreational marijuana, while prior polls have demonstrated even more widespread support for medical use.