Chris Rock Will Host the 2016 Oscars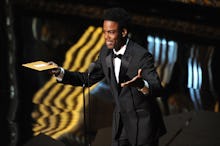 American actor and comedian Chris Rock will host the Oscars in 2016, Rock and the Academy of Motion Picture Arts and Sciences announced on Wednesday. The event marks the 88th installment of the annual awards show and Rock's second appearance as the evening's host. On Feb. 27, 2005, Rock hosted the 77th Annual Academy Awards. Next year's event will take place on Sunday, Feb. 28, at the Dolby Theatre in Hollywood, California, and will be broadcast live on ABC.
The actor, who is also known for his work as a standup comedian, posted the news on Twitter:
On Wednesday morning, the Academy also confirmed its decision.  "Chris may be best known as a stand-up comic, but we think of him as a creative innovator in many other ways," said Academy CEO Dawn Hudson in the announcement, posted on the Oscars website. "He is unafraid in his artistry. We couldn't be happier to welcome him back to the Oscars."
"Chris Rock is a comedic powerhouse who will bring tremendous energy to the event, and we're honored to have him," Paul Lee, president of the ABC Entertainment Group, said in the same release.
Correction: Oct. 21, 2015