Tesla S Consumer Reports Rating Downgraded to "Worse Than Average"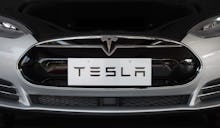 Tesla's Model S just got a serious downgrade from Consumer Reports. 
Tesla's Model S P85D electric, all-wheel drive vehicle, the priciest of Tesla's line of luxury electric cars, received a perfect rating for its performance from Consumer Reports in August. "The all-wheel drive Tesla Model S P85D sedan performed better in our tests than any other car ever has, breaking the Consumer Reports rating system," the company said — but the glory didn't last long. Consumer Reports' latest survey of the Model S sedan earned it a "worse than average" designation for reliability. 
Despite its record performance rating, the reliability survey claims the electric sedan "has too many problems to recommend" based on the company's Annual Auto Reliability Survey. The survey revealed that roughly 1,400 negative reviews detailed a plethora of issues with the car in terms of the drivetrain, power and charging equipment, the tablet-like console and noise and leakage from the body and sunroof. 
These reviews label the Model S "worse than average," per the report, which falls short of Consumer Reports' "average" forecast for the vehicle in 2014. The report pointed out that most of the problems can be taken care of free of charge through Tesla's warranty program.
"Consumer Reports also found that customers rate Tesla service and loyalty as the best in the world," a Tesla spokesperson told TechCrunch on Tuesday. "Close communication with our customers enables Tesla to receive input, proactively address issues and quickly fix problems. Over-the-air software updates allow Tesla to diagnose and fix most bugs without the need to come in for service. In instances when hardware needs to be fixed, we strive to make it painless."
This review comes after Tesla introduced autopilot driving on the Model S on Oct. 14. The feature, available through a software upgrade, enables the car to drive and park itself — no hands or feet required. The advanced feature is part of Tesla's push over the past year to create technology that can support self-driving.