Blink 182 May Have a New Album Coming in 2016 — Here's What We Know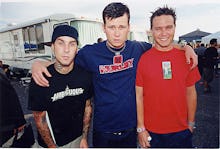 Blink-182, one of the best-loved post-grunge rock band to emerge in the late '90/early 2000's, may have an album on the horizon for 2016, according to a Tuesday interview in NME with the band's percussionist, Travis Barker.
It's been four years since Blink-182 released an album, 2011's Neighborhoods, and a full 16 years since its defining record, Enema of the State, which has since sold more than 15 million copies. With a total of six studio albums and two decades under its belt, it appears the band isn't ready to call it quits just yet. 
A major switch-up: In January, Blink-182's bassist and co-lead vocalist Mark Hoppus and percussionist Barker revealed that Tom DeLonge, the band's guitarist and co-lead vocalist, had left the band "indefinitely." DeLonge refuted the news via Facebook. "Are we dysfunctional — yes," DeLonge wrote. "But, Christ..."
Speaking to Rolling Stone, Hoppus and Barker confirmed that DeLonge was, in fact, out of the band. In the interview with the music publication, Barker calls DeLonge's attitude toward Blink-182 "disrespectful" and "ungrateful." 
Moving forward, Matt Skiba, former vocalist and guitarist for Alkaline Trio, will join Blink-182 in DeLonge's place. Skiba has already begun recording with Hoppus and Barker. "Matt's killing it," Barker told NME. "He's fun to play with and write with."
Sound: Speaking to NME, Barker revealed that the new trio has already recorded four or five songs he's "really happy with." As for the aesthetic of Blink-182's new material, Barker told NME, "They sound different but still the same. Obviously, it's Matt Skiba singing so there's hints of Alkaline Trio, or at least Matt's contributions to Alkaline Trio, mixed with my drumming and Mark's voice and stuff. It's really cool and I really love what we've done so far."
"The goal here is to come up with an album and just write," Barker told NME. "We don't put a limit on how many songs we're gonna write. [We just] Write a bunch of songs and when we feel like there's an album ready, there's an album ready. You know, no pressure, no deadlines."
An exact release date for the forthcoming album has yet to be announced. Here are the members of Blink-182, before the revolving door replaced DeLonge with Skiba, and a now-vintage music video for "Adam's Song," off 1999's Enema of the State.