Joe Biden Announces He Won't Run for President After All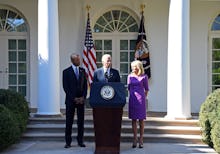 He's out.
Vice President Joe Biden announced on Wednesday that he will not run for president, ending months of will-he-won't-he speculation over whether or not he would launch a bid for the nation's highest office.
Biden made the announcement in the White House Rose Garden shortly after noon, flanked by President Barack Obama and his wife, Dr. Jill Biden. He said the grieving process he and his family have experienced following the death of his son Beau made it impossible for him to wage a campaign for the White House.
"As my family and I have worked through the grieving process, I've said all along that it may very well be that that process, by the time we get through it, closes the window on mounting a realistic campaign for president," Biden said. "That it might close."
"I've concluded it has closed," Biden said. "I know from previous experience that there's no timetable for this process. The process doesn't respect or much care about things like filing deadlines or debates and primaries and caucuses, but I also know that I couldn't do this if the family wasn't ready. But the good news is the family has reached that point."
Biden then paid a touching tribute to his late son, who died of brain cancer at the age of 46 in May. 
"I've said many times, my family has suffered loss, and I hope there would come a time — and I've said this to many other families — that sooner rather than later, when you think of your loved one, it brings a smile to your lips before it brings to a tear to your eyes," he said. "Well, that's where the Bidens are today, thank God. Beau is our inspiration. Unfortunately, we're out of time — the time necessary to mount a winning campaign for the nomination."
The move comes one week after the first Democratic debate, in which Hillary Clinton's strong performance eased concerns among some Democrats about her viability as a candidate. Biden's poll numbers have also fallen in recent days as Clinton has solidified her lead in the polls coming out of the debate.
In his remarks on Wednesday, Biden hinted at the kind of campaign the Democratic nominee should wage: one that defends the legacy of the Obama administration.
"The American people have worked too hard, and we've come too far for that," he said. "Democrats should not only defend this record, and protect this record, they should run on the record."
Biden himself had fanned the flames of speculation about his intentions, sounding very much like a candidate for president in numerous public appearances in recent weeks. As recently as Tuesday, Biden was playing up his credentials as a foreign policy luminary and subtly critiquing Clinton's tenure as secretary of state.
Biden's decision to sit out the campaign doesn't fundamentally change the dynamics of the race so much as it cements the status quo — Clinton remains the overwhelming favorite to win the nomination, with no candidate presenting a viable alternative to satisfy the disparate constituencies that make up the base of the party. His decision not to challenge the front-runner means his status as a respected elder statesman of the party will remain in tact, while Clinton's path to the nomination just got a little bit smoother.
You can watch Biden's full statement from the Rose Garden here: