H&M Just Showed the Fashion World What a Diverse Runway Really Looks Like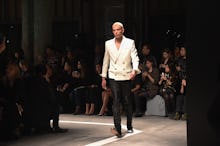 The lights dimmed, and Kendall Jenner's face appeared on a video screen.
But just a few moments later, the action began on the runway for H&M's designer collection with Balmain, where an assorted group of dancers of all races, ages and sizes walked out onto the runway to do a spectacular amount of vogueing.
"I find vogueing very emotional and personal, because it is all about identity," Olivier Rousteing, the Balmain designer behind the H&M collection, told Refinery29 ahead of the show. "So many black kids who were rejected from their home have been able to find a family through vogueing," he said of the LGBT subculture and dance style.
That doesn't sound like a fashion designer talking. But Rousteing, as one of the only black designers at a major fashion house, is a designer who doesn't take matters of representation and identity lightly. 
The 29-year-old designer has been a vocal advocate of diversity in fashion, continuously making the case that the runways should reflect a more eclectic idea of what's beautiful.
His runway show for the new H&M collection, which took place on Tuesday in a former bank building on Wall Street in New York City, showcased the famous faces in #BalmainNation, which includes a diverse array of models and celebrities.
There were about as many men's outfits as there were women's, and male models on the runway included the likes of Dudley O'Shaughnessy, Hao Yun Xiang, Geron McKinley and Francisco Lachowski.
Among the women, Joan Smalls and Jourdan Dunn were among the slew of models of color who walked the runway. It was especially exciting to see Lineisy Montero Feliz "join the #balmanation," as i-D announced on Instagram, seeing as the successful Dominican model walked in more shows than any other model in the Spring 2016 season.
"All my girls, no matter their age, they can be mothers, they can be 20 years old, they can have different body shapes and be different colors," Rousteing wrote in September on CNN, where he blogged as a guest editor. "Asian, American, African, European — [they] are beautiful, strong women who are proud to be on the runway."
In a fashion industry in which, according to a new report, 71.6% of the models at New York Fashion Week were white, 10.4% were black, 8.7% were Asian and just 4.2% were Latina, a commitment to diversity matters. 
That's especially true when it's not just fashion insiders watching, but girls everywhere. 
"With H&M, you know you're part of the world, you touch all the continents," Rousteing told Vogue earlier this year. "I've always been loud about being about diversity and the world. So it's perfect."
Indeed it was. Those lucky enough to attend the event in New York got to see the designer's vision live; for the rest of the fashion-loving shoppers out there who take in the new collection's ads or pass through H&M's doors when the collection debuts on Nov. 5, they'll still get the message loud and clear.