Flooding in Texas, New Mexico and Oklahoma Possible After Warnings Issued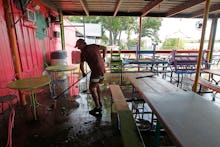 Forecasters are predicting flooding and heavy rain following a series of combined weather disturbances impacting parts of Texas, New Mexico, Oklahoma and the south-central United States, according to The Weather Channel. The threat of severe thunderstorms and rain from Tropical Storm Patricia, set to reach the coast of Mexico by Friday, could continue to impact the region from Thursday and Friday throughout the weekend. 
Accuweather reports another storm could potentially form off the coast of Texas this weekend, adding to the torrent inflicting the southern Plains. According to flash flooding watches issued by the National Weather Service, portions of Oklahoma, Texas and New Mexico may be hit with heavy showers, flooding and other severe storm conditions as early as Wednesday and Thursday. 
"Some thunderstorms will be capable of producing over one inch of rain per hour. Multiple waves of precipitation are expected through tonight, increasing the threat for flash flooding," the watch, issued for New Mexico on Wednesday, notes. The message continues, "The most vulnerable locations will be those where the soil is already saturated."
Although safety concerns remain the main issue of the potential flash flooding, the rainfall could provide some benefits. As The Weather Channel notes, the much-needed rain comes at a time when the area is facing "flash droughts," a series of dry weather patterns that leave the soil lacking water and nutrients to fertilize major crop regions throughout Texas and Oklahoma.