Tidal X: 10/20: Highlights, Video and Full Recap of Tidal's Star-Studded Night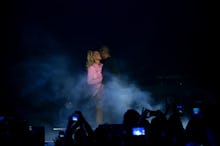 Jay Z knows how to throw a party. In honor of Tidal — the Brooklyn rapper's online music streaming service — recently surpassing 1 million subscribers, the company hosted the first annual Tidal X: 10/20 charity event at the Barclays Center in New York City. The show sported some of the biggest names in the music industry, including Beyoncé, Nicki Minaj, Meek Mill, Alessia Cara and Justine Skye. 
Mic attended the Tidal event, where all proceeds were matched by the streaming service and benefited the New World Foundation. The organization supports social movements by funding several separate charities working to reform social inequalities and racial injustices, among other issues. Celebrities were given 10 seconds to tell the publication's Snapchat audience what they felt the biggest challenges are facing so-called Generation Y, or millennials — people born between the early 1980s and early 2000s.
Several artists cited social media as a prevalent concern among young people, including that it can be used excessively and before prioritizing other responsibilities. Alessia Cara, who's single "Here" is the artist's first song on Billboard's Top 40 Hot 100, was the first to recognize social media's potential negative impact on getting a message across with its limiting constraints. "The biggest challenge facing our generation is that we only have 10 seconds to say how we feel," Cara told Mic. 
Justine Skye, 20, agreed. "The biggest challenge facing our generation is confidence," Skye said. "Because of social media, it's kind of a downer, and people let it take over their lives."
Rappers French Montana and Rick Ross had similar messages for Gen Y. "The biggest challenge we're facing is not following social media and handling life before you get on social media," Montana said. 
While Ross didn't exactly answer the question, he did note millennials face major challenges. "We already know in this generation the biggest obstacles, and there's a lot of them, ya dig?" Ross said. "We're fighting one of them right now. 
"Y'all better just hold your head up," Ross said, before shouting the word "boss" and leaving the red carpet.
During the show, Philadelphia rapper Meek Mill was joined on stage by Rick Ross, French Montana and DJ Khaled, while Usher performed his new release "Chains," a Tidal exclusive single that focuses on racial injustice and increased police tensions in the United States. 
The night was filled with surprises, including the first live performance of Beyoncé and Nicki Minaj's "Feeling Myself" and a joint set from Jay Z and Lil Wayne, featuring their 2007 hit "Hello Brooklyn." 
Perhaps the biggest performance of the night was Beyoncé and Minaj's "Feeling Myself." The duo immediately made headlines as the set was live-streamed via Tidal, giving their 2014 smash hit a second shelf life. Beyoncé took the stage again when her husband Jay Z came out to perform "Holy Grail."
The concert ended with Jay Z thanking the audience and fans watching the concert online for supporting Tidal, as well as announcing the Tidal X: 10/20 event would be held each year at the Barclays Center (a venue the musician helped create and owned less than one-fifth of 1% stake in until 2013), boasting exclusive performances, huge names and rising stars.