Lamar Odom and Khloe Kardashian Have Reportedly Called Off Divorce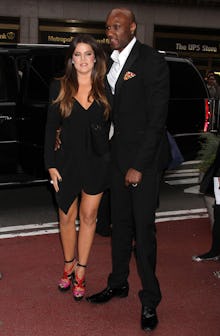 Reality TV star Khloe Kardashian and ex-husband Lamar Odom called off their divorce on Wednesday after Kardashian's lawyer brought signed documents to court from both Kardashian and Odom asking to repeal their already-filed divorce, TMZ reports on Periscope. 
This news comes as Odom starts to recover from being hospitalized after he was found unconscious at a Nevada brothel on Oct. 13 where he remained unconscious for several days. Kardashian broke her silence since the hospitalization on Tuesday, thanking her friends and family for the support in such a difficult time.
"The past week has been incredibly difficult," Kardashian wrote on KhloeWithAK.com. "I am so thankful to family, friends and fans, who have sent nothing but prayers and well wishes to Lamar. ... You can never be prepared for an experience like this, but without the outpouring of love and endless prayers that Lamar has received and the strength I was given from my loved ones, it would have been difficult to endure. Thank you for your continued support. God is great!!!"
Kardashian filed for divorce from Odom in 2013 after a video leaked of the ex-NBA star rapping about drugs and cheating on his wife. Odom was reportedly dealing with substance abuse problems at the time. 
This is a developing story and will be updated as more information comes in.