Video of Dying 6-Year-Old Boy Pleading "Don't Bury Me" Shows the Cost of War in Yemen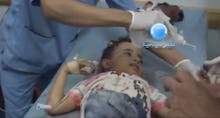 In a video posted on Saturday, 6-year-old Fareed Shawky lies in a hospital bed after sustaining fatal injuries from a missile attack at the hands of Houthi rebels in Taiz, Yemen. As he's being treated, the boy quietly asks his doctors, "Don't bury me." 
The footage has been viewed more than 145,000 times on Facebook, sparking the hashtag #DontBuryMe — in both Arabic and English — that trended on social media as Yemenis pleaded for an end to the violence.
Tragically, Shawky died a few days after the video was shot.
Warning: Some readers may find this image disturbing.
"His call, 'Don't bury me,' represents Yemen's call to not bury us," Nadwa Al-Dawsari told Mic. Al-Dawasari is a Yemeni and senior nonresident fellow with the Project on Middle East Democracy who specializes in conflict. "It represents what Yemen is facing now because of the war. It stirred a lot of anger," she said.
Al-Dawsari has been vocal about Shawky's death on social media. She hopes this will catalyze an international initiative to stop the violence. For many, the story is painfully reminiscent of Aylan Kurdi, the 3-year-old Syrian refugee who washed up on a Turkish shore after a failed attempt to flee his homeland with his family. The image of his body stirred the world into action. 
Yemen has become the fighting ground for a proxy war between Sunni Saudi Arabia and Shiite Iran. Houthi rebels, responsible for the death of Shawky, are an Iran-backed Shiite group in a power struggle with the Saudi-backed Sunni official government, which is all but defunct. Saudi Arabia, leading a multinational coalition, is conducting airstrikes throughout the country in an attempt to weaken the Houthi and antigovernment rebels.
"[The world needs to] stop thinking about Yemen through a lens of international actors and regional politics," Al-Dawsari said. "The international community needs to recognize local actors are important and engage them in a dialogue. They need to come up with a process where they're involved."
She argues engaging local political and resistance leaders with legitimacy on the ground is the most effective way to tackle volatility — more effective than airstrikes, at least.
"At this stage, the best outcome would be for the fighting to stop and negotiations [to commence]," Al-Dawsari added. "But also government-wise and politically, [it] would be to see local authorities being strengthened and empowered, taking charge in governance." 
As Shawky's death reminded the world, the human cost of the civil war is too high.