Bernie Sanders Calls for Investigation of Exxon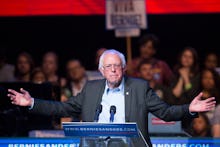 Democratic presidential candidate and Vermont Sen. Bernie Sanders has called on the Department of Justice to investigate oil giant Exxon Mobil for potential fraud, including allegations that the company may have buried research linking fossil fuels to climate change in order to protect its business.
In a letter to Attorney General Loretta Lynch on Tuesday, Sanders expressed concern over Exxon's potentially misleading and environmentally harmful tactics dating back to 1977 that Sanders said, if true, qualify as corporate fraud.
"It appears that top Exxon scientists concluded both that climate change is real and that it was caused in part by the carbon pollution resulting from use of Exxon's petroleum-based products," Sanders wrote. Sanders also pointed out that Exxon's "climate research program"  was essentially built to eliminate threats to its business model. 
Sanders' concern, according to the letter, is based on an eight-month series of investigations conducted by the environmental news organization Inside Climate News, which found that Exxon is aware that its industry has had a negative affect on earth's climate after studying the issue for over 40 years.
Sanders also highlighted a 1998 New York Times report of Exxon's involvement in the American Petroleum Institute's Global Climate Science Communications Plan, which was outed as an initiative to confuse the public about global warming. Sanders claimed the oil giant has donated over $31 million to anti-climate change think tanks since then. 
The New York Times story from 1998 detailed a multimillion dollar plan, set up by big oil executives, trade associations and conservative policy groups to "convince the public that the environmental accord is based on shaky science."
Sanders requested a Dec. 19 deadline for the investigation and compared Exxon's potential scandal to that of the tobacco industry. That industry's genetic engineering of tobacco plants amounted to "federal racketeering convictions," Sanders wrote, referring to the scandal.
This comes after two House democrats, Reps. Ted Lieu (D-Calif.) and Mark DeSaulnier (D-Calif.), wrote a similar letter to Lynch on Oct. 14, alleging Exxon lied about fossil fuel's influence on climate change. Their letter also likened Exxon's actions to the tobacco industry scandal, citing reports from Inside Climate News and the Los Angeles Times, which exposed a disconnect between Exxon's internal and external operation tactics.