Nike Mag Power Laces: Here's When Shoes From 'Back To the Future II' Will Go on Sale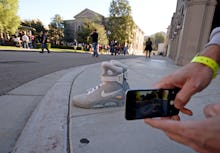 On Wednesday, shoe retailer Nike joined numerous fans, brands and U.S. President Barack Obama in celebrating Back to the Future Day, an event devoted to the '80s cult classic time-traveling series. Nike's contribution to the sci-fi-themed holiday was a promise to deliver a line of self-lacing sneakers, much like the futuristic shoe that appears in the 1989 film and second film in the trilogy, Back to the Future II, dubbed the Nike Mag.
In Back to the Future II, Michael J. Fox plays main character Marty McFly, a teenage skater who, upon finding himself transported 20 years in the future, sports a pair of futuristic Nike kicks. The shoe's distinguishing feature is that it laces automatically. 
Proof that a line of self-lacing Nikes is en route can be traced back to a patent filed in July 2014. The patent outlines schematics for the mechanics behind self-lacing technology. And although Nike has yet to confirm a release date or how much each pair will sell for, the company is likely to release the shoes sometime in spring 2016, according to a tweet on Wednesday from the Michael J. Fox Foundation. 
The new Nike Mags: The designer for the new Nike Mag line, Tinker Hatfield — the same designer behind the movie shoe's design 20 years ago — sent Fox a handwritten letter, which the actor snapped a picture of and posted to Twitter on Wednesday. "If my calculations are correct...your pair should be with you shortly," Hatfield wrote to Fox, with a sketch of Marty McFly trying on the shoes for the first time. 
Not the first fantasy Nikes: Nike produced a replica of the imaginary shoes once before, in 2011, but the shoes never made it to the mainstream. At the time, the footwear retailer released a limited number of the McFly shoe — just 1,500 — which were called the Nike Mag shoes.
Nike auctioned off all 1,500 pairs and donated the proceeds to the Michael J. Fox foundation, a nonprofit organization that focuses on Parkinson's disease, an illness that affects the central nervous system. The original Nike Mag design, while aesthetically similar to the pair Fox wears in the film, didn't self-lace, though they were equipped with LED lights in the soles. 
Once the latest shoes are officially announced, Nike will likely add product details and pricing to its shoe launch calendar.
In the meantime, here's a video of David Letterman interviewing Fox about the shoes when Nike designed its first version in 2011.