Kate Winslet Won't Let Herself Be Photoshopped in Her Makeup Ads — Here's Why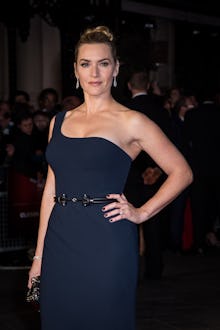 Actress Kate Winslet, a longtime adversary of retouched and airbrushed photos, has taken a stand — and it's all about protecting young women from unrealistic beauty standards. 
At the Elle Women in Hollywood event on Monday, the 40-year-old Academy Award-winning actress told E! News that she has a contractual agreement with L'Oréal that ensures her Lancôme ads be free of any additional editing to her appearance. 
That means wrinkles, dark circles and whatever else will be proudly visible. And for good reason. 
"I do think we have a responsibility to the younger generation of women," she said. "I think they do look to magazines, I think they do look to women who have been successful in their chosen careers and they want people to look up to, and I would always want to be telling the truth about who I am to that generation because they've got to have strong leaders." 
"We're all responsible for raising strong young women, so these are things that are important to me," she concluded.
As far back as 2003, Winslet has criticized the zealously Photoshopped images frequently gracing our magazine covers and campaigns. In 2009, she told Harper's Bazaar that, overall, she found that airbrushing robbed her of her most human traits. 
"I have wrinkles here, which are very evident," she said to the magazine. "And I will particularly say when I look at movie posters, 'You guys have airbrushed my forehead. Please can you change it back?' I'd rather be the woman they're saying 'She's looking older' about than 'She's looking stoned.'"
Kate Winslet certainly deserves more than that but so do the many women and girls who read magazines and see fashion images shared on their feeds in what amounts to a near-daily onslaught. As so many celebrities have pointed out (Zendaya, a teen herself, being the latest), the images we see affect how feel about beauty and ourselves.
As Winslet said, the younger generation of women should see something that reflects real life that they can look up to.