Jeremy Renner Says It's Not His Job to Negotiate With Female Co-Stars for Equal Pay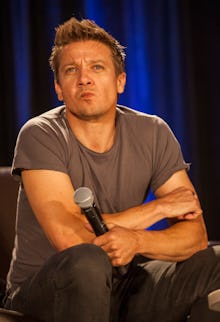 Jeremy Renner is going to take a pass on petitioning for equal pay.
In a quote given to Business Insider, the actor explained he'd rather not focus on the gaping, chasm-esque wage gap in Hollywood that rewards men more than women.
"That's not my job," he said during a press day for a new Rémy Martin Cognac campaign in which he's participating, Business Insider reports. "I don't know contracts and money and all that sort of stuff. ... I'm a performer, and I know human behavior. When it comes to that sort of stuff, I let other people deal with that."
The Business Insider report clarifies Renner did indeed say he supports equal pay for actresses. He's just not interested in doing any negotiating that would actually help actresses receive equal pay. Twitter users, unsurprisingly, quickly took him to task.
Renner's comments come following an op-ed Jennifer Lawrence wrote last week for Lenny, Lena Dunham's newsletter. In the piece, Lawrence expressed frustrations with the gap and blamed herself for not being an aggressive-enough negotiator. Though Lawrence commands a high figure now, she and fellow actress Amy Adams were actually paid less for American Hustle than male co-stars Renner, Christian Bale and Bradley Cooper.
Cooper, for his part, was sympathetic. After Lawrence's op-ed, he pledged to start sharing how much he's paid with his female co-stars, admitting that though it's unusual, it's a necessary step.
"Usually you don't talk about the financial stuff, you have people," he told Reuters. "But you know what? It's time to start doing that."
Renner, however, isn't interested in doing the same. "I do what I'm good at, that's what I focus on," he told Business Insider. Apparently, what Renner is good at does not include having a conversation about the wage gap with his female co-stars.