Read This Mom's Perfect Open Letter to the Teen Skater Who Helped Her Young Daughter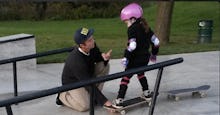 Jeanean Thomas, 29, wrote an open letter to a teenage boy who helped her apprehensive 6-year-old daughter learn how to skateboard at a skate park in Ontario — and it's going as viral as a video of a puppy spooning a kitten would. 
Thomas' daughter, Peyton, had expressed interest in skateboarding, but she lacked enthusiasm for trying it as she thought it was exclusively for boys. 
Peyton's mother took her to the skate park and anticipated resistance from the group of smoking and swearing skaters, her letter explains. Instead, one of the teenage boys offered to help Peyton learn and championed her for nearly an hour. 
Thomas now wants to find and thank the teen properly, which is what prompted her to tweet out a screenshot of an open letter to him (full transcript follows below). 
The tweet, posted Oct. 10, has garnered more than 19,000 favorites and 13,000 retweets. 
When the two first arrived, according to the letter, Peyton took one look at the park and its visitors and wanted leave. "I secretly wanted to go too because I didn't want to have to put on my mom voice and exchange words with you," Thomas wrote in her letter. "I also didn't want my daughter to feel like she had to be scared of anyone, or that she wasn't entitled to that skate park just as much as you were."
Much to Thomas' surprise, one of the teens approached Peyton not to dissuade her, but to encourage her. "You proceeded to spend almost an hour with my daughter showing her how to balance and steer, and she listened to you; a feat not attained by most adults," the letter said.
"You held her hand and helped her get up when she fell down and I even heard you tell her to stay away from the rails so that she wouldn't get hurt." 
After having to convince Peyton not to conform to gendered stereotypes, the entire interaction made Thomas reassess her own biases, she told Global News. 
Mic reached out to Thomas, but she was not immediately available for comment.
"I want you to know that I am proud that you are part of my community, and I want to thank you for being kind to my daughter, even though your friends made fun of you for it," Thomas writes at the end of her letter. "She left the skate park with a sense of pride and with the confidence that she can do anything, because of you."
Read the full letter below:
Dear teenage boy at the skate park: