Hillary Clinton Benghazi Hearing Live Stream: Watch 2016 Presidential Candidate Testify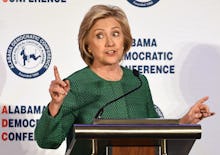 Hillary Clinton is facing yet another opponent, but it's definitely not Vice President Joe Biden or any other presidential hopeful. The former secretary of state and Democratic front-runner for the White House is answering questions from the House Benghazi Committee at 10 a.m. ET Thursday on Capitol Hill.
The Select Committee on Benghazi was created in 2014 after the Republican-led House voted in favor to investigate the 2012 terror attacks in Benghazi, Libya, which killed a U.S. ambassador. However, recent reports indicate the committee may have ulterior motives, and Clinton is expected to use the hearing to advocate for America's continued international relations in a world plagued with violence and terrorism, according to USA Today.
Tune in to the Capitol hearing via Roll Call's YouTube channel below: