Watch Michael J. Fox Show Off Nike Mag Power Laces on 'Jimmy Kimmel' — Video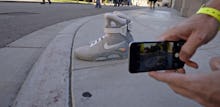 Back to the Future Part II star Michael J. Fox, who played Marty McFly, rocked the first real-life pair of Nike self-tying kicks on Wednesday's Jimmy Kimmel Live after the high-tech sneakers were featured in the 1989 cult classic set in the future. 
When Marty travels to the future, he winds up in Oct. 21, 2015 — Wednesday's date, or Back to the Future Day as it's now known. In celebration of the onetime holiday, sneaker giant Nike promised the release of the Nike Mags, a pair of the Nike sneakers Marty purchases in the film that tie themselves — and of course Fox debuted them. The sneakers should be available to purchase spring 2016, according to a tweet from the Michael J. Fox Foundation.
Fox not only premiered the futuristic kicks on Kimmel, he and Doc Brown himself (Christopher Lloyd) made an epic entrance in none other than the famous time-traveling DeLorean. 
Witness the full spectacle and Fox's debut of the Nike Mags below: