Laverne Cox to Star in 'Rocky Horror' Reboot. Here's What We Know About the Film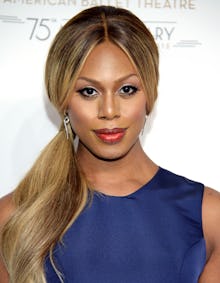 Fans of the Netflix hit series Orange Is the New Black and Laverne Cox will be pleased to know that Fox has cast the prime-time Emmy-nominated actress as the lead in an upcoming The Rocky Horror Picture Show remake, the network announced Wednesday. Kenneth Ortega, the director behind High School Musical, will take the reigns on production for the two-hour TV rework, which Fox said will air in fall of 2016.
The Rocky Horror Picture Show, an infamous film and mega cult classic, first debuted in 1975. After 40 years of distribution, the film still has remarkable legs. Theaters across the country continue to show the film at special events, making The Rocky Horror Picture Show the longest-running film in the annals of cinema, according to Fox. 
Cox will play the roll of Dr. Frank-N-Furter, a role made famous by Tim Curry. The plot of the film follows a couple, Janet Weiss and Brad Majors, who come upon a strange residence and endure one of the most unexpected and freakiest nights on record. Their host for the evening is Frank-N-Furter, "a sexually ambiguous, flirtatious alien mad-scientist," per Fox. What happens next is wild and wonderfully weird, and has kept fans hanging on for decades.
Cox has been a vocal advocate for the transgender community. In April, Cox posed nude for Allure magazine, which the star said was particularly important for the black transgender community.
"Trans women certainly are not told we're beautiful," Cox told Allure in April. "Seeing a black transgender woman embracing and loving everything about herself might be inspiring to some other folks. There's beauty in the things we think are imperfect."
For the time being, Fox has yet to set a concrete date for the TV special — and the anticipation will likely grow through winter into spring of next year.