This Is What it Looks Like When a Plus-Size Guy Kills It on a Fashion Runway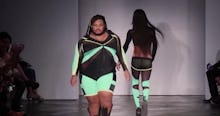 This might not be a model you've heard of, or a fashion show of a designer you recognize, but it's going viral — and here's why. 
Exhibit A: 
Exhibit B: 
Exhibit C: 
Dexter Mayfield, an actor and dancer with a grade-A runway strut, took to the runway of designer Marco Marco at Fashion Week in Los Angeles on Saturday. The crowd erupted when Mayfield self-assuredly hit the catwalk, even before he pulled his own signature moves at the end. 
"Once I spoke to Marco right before I went on the runway, I just said 'fuck it,' and I just went for it!" Mayfield told BuzzFeed. "It was unlike any other feeling I've had before!"
Marco Marco is known for creating elaborate and provocative outfits, and even underwear too, with a long list of RuPaul Drag Race clients who've worn his clothes and also hit the runway. Also walking in the show that night was venerable teen Brendan Jordan and transgender Men's Health model Aydian Dowling. 
A video of the fashion show posted Wednesday on Facebook by comedian Sam Kalidi has since amassed more than 1.8 million views. 
Mayfield's presence in the show — and virality — speaks to society's slowly changing conception of what a male model can look like. In January, the Telegraph asked, "Why Are There No Plus-Size Male Models?" This summer, the conversation across media turned its attention to the double standard for men in the fashion industry.
In September, one of the most vocal figures in plus-size male modeling, Zach Miko, told Mic about the challenges he's faced in the industry.
"The first day [of the shoot], they were supposed to send XL tall shirts, and every shirt they sent was a medium regular, which I cannot fit into under any stretch of the imagination," Miko said. "They had to cut every single shirt and open it up like a hospital gown." 
Women have been making waves in the push for body inclusivity, with female plus-size models like Tess Holiday and Ashley Graham booking campaigns and gaining traction. But plus-size male modeling — and the body diversity it represents — still has a way to go. Perhaps Mayfield's presence can do some good and, at the very least, inspiring men around the globe. 
"At the end of the day, I simply just want to do what I love, and I feel talent should speak for itself no matter your shape or size," Mayfield told BuzzFeed. "So, if anyone can be inspired by it, that just makes the reward of what I do even greater. And from the show up to today, the messages of love and encouragement have been overflowing and I am so grateful for it all."
Watch Mayfield's full walk below: 
h/t Bustle