Meet Julia, Sesame Street's New Character With Autism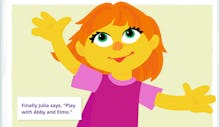 Sesame Street wants you to meet the amazing new kid on the block.  
As part of a new campaign called Sesame Street and Autism: See Amazing in All Children, the long-running children's show introduced a Julia, a girl living with autism, in an online storybook starring popular characters Elmo and Abby Cadabby. 
The book, We're Amazing, 1, 2, 3!, debuted online Wednesday and depicts Elmo and Abby together in a variety of activities: playing with building blocks, learning on a tablet and going to the park. Once at the park, Julia meets Abby, who doesn't understand why Julia stays quiet. 
Elmo explains to Abby that sometimes he has to wait a while for Julia to answer his questions. After they wait, Julia invites Abby to play a game of I Spy. 
The book is just one part of the Sesame Street initiative to fight autism stigma. "While the diagnosis is common, public understanding of autism is not," according to the project's website. 
The initiative includes the storybook as well as free app, daily routine cards to help families of children with autism make daily tasks easier, as well as resources for care providers and organizations.
The routine cards offer help on things like brushing your teeth, trying new food and getting up in the morning. 
Why this matters: "Children with autism are five times more likely to get bullied," Jeanette Betancourt, senior vice president of United States social impact for Sesame Street, told People. "And with 1 in 68 children having autism, that's a lot of bullying. Our goal is to bring forth what all children share in common, not their differences. Children with autism share in the joy of playing and loving and being friends and being part of a group." 
The campaign also features stories of real children living with autism. 
According to the Centers for Disease Control and Prevention, that 1-in-68 figure Betancourt names is about double the number recorded among American children only a decade ago. However, the CDC says it is unclear whether the jump is due to an actual increase or a broader definition of Autism Spectrum Disorder and better diagnosis efforts. 
"See Amazing in All Children" was created to offer families an affirming autism narrative that both kids and parents can use to overcome the challenges of either being or raising an autistic child.  
Aside from the stigma, autism in the U.S. has an economic impact. The average cost of therapy and procedures to support children with autism can reach $40,000 to $60,000 annually, according to the Autism Action Partnership. 
But the initiative, part of the Sesame Workshop, is not only about the burden — it's also about the solution. As part of the campaign, Sesame Street released a video for "The Amazing Song," celebrating the simple idea that every child is amazing. The video stars Elmo, Abby and children living with autism. 
The program also offers families a way to get involved by using the hashtag #SeeAmazing to share their stories of caring for a child — or being a child — with autism.
Many have already joined in.