Drake "Hotline Bling" Video Brought Out the Best Memes and GIFs on the Internet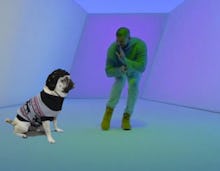 Drake's song "Hotline Bling" was an instant hit when it dropped in late July, but the 28-year-old rapper really threw the Internet into a buzz when he dropped the highly anticipated music video on Apple Music Monday. In the video, Drake shows off his questionable dance skills, moves that quickly became an official Internet phenomenon all their own. 
Social media users have already manipulated the video into countless memes, GIFs and Vines that show the rapper dancing along to various tunes or sporting various props, from tennis rackets to pizza toppings.
Twitter put Drake into a ton of relatable moments, adding captions along the lines of "When you don't get charged extra for guac at Chipotle" and "When the wrong person makes your hotline bling."
The Internet also had a field day providing alternative tracks for Drake to dance along to, from Tom Jones' "It's Not Unusual" to the Charlie Brown theme song.