Taylor Swift Pet the Weeknd's Hair When They First Met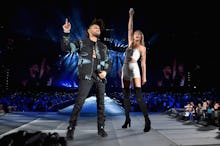 In an interview with Rolling Stone published Wednesday, Canadian musician and producer Abel Tesfaye, better known as chart-topping R&B act the Weeknd, described his first conversation with pop musician Taylor Swift. When Tesfaye met Swift at a Grammy's after-party, he says Swift spent 15 minutes petting his hair.
"The whole time [Swift] was talking, she was kind of, like, petting my hair?" Tesfaye told Rolling Stone. "I think she was just drawn to it — she must have been a little gone off a few drinks." 
Tesfaye told Rolling Stone he wasn't going to tell Swift, "'Hey, can you stop?'" because it "felt good." "But when she started petting my hair, that's when I was like, 'I definitely need a drink.'"
A lot of thought has gone into Tesfaye's distinctive 'do, a look he told Rolling Stone is inspired by American artist and musician Jean-Michel Basquiat. Tesfaye's hair has even garnered a curated Tumblr page where fans post images of him. 
"I want to be remembered as iconic and different," Tesfaye told Rolling Stone. "So I was like, 'Fuck it — I'm gonna let my hair just be what it wants.' I'll probably cut it if it starts interfering with my sight. I can kind of see it right now. But if I cut it, I'd look like everyone else. And that's just so boring to me."
Whether the hair-petting incident was warranted, Tesfaye said Swift was a gracious fan of his work. "She actually schooled me on my own shit," Tesfaye told Rolling Stone. "She was like, 'I've been listening to 'The Morning' [from House of Balloons] for years — it's one of my favorite songs ever!' I mean, she might have just Googled it. But she seemed genuine."
In July, Tesfaye and Swift shared the stage in New Jersey during Swift's 1989 tour. The duo delivered a live rendition of the hit single "I Can't Feel My Face" off the Weeknds' most recent album, Beauty Behind the Madness, which was released August.
Tesfaye appeared as the musical guest on the Oct. 10 episode of Saturday Night Live, an evening hosted by comedian extraordinaire Amy Schumer. Watch his steamy performance with R&B powerhouse Nicki Minaj.
Correction: Oct. 22, 2015