Airbnb Pulls San Francisco Ad Campaign That Criticized Public Workers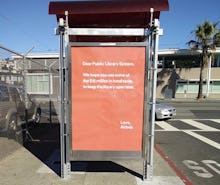 When most of us have to pay back taxes we've been avoiding, we gripe about it and move on. When Airbnb has to pay taxes, it runs an outdoor ad campaign criticizing public workers.
The short-term rental service launched a snarky ad campaign this week in San Francisco to lash out at the city for making the company pay taxes it had avoided for years.
The ad outside of the Ingleside Library reads: "Dear Public Library System, we hope you use some of the $12 million in hotel taxes to keep the library open later. Love, Airbnb."
Airbnb posted other finger-wagging ads across the city. "Don't spend it all in one place," one reads. Another tells the Public Works department to use the tax dollars to "put escalators on all the hills."
Does Airbnb's library math check out? The ads were first called out by Martha Kenney, who wrote a sarcastic and widely shared open letter on Facebook saying that the library system's share of the hotel taxes — about $168,000, per Kenney's estimation — would obviously not keep libraries open much longer.
"Had you donated that $8 million you spent fighting Proposition F directly to the public libraries you love so much, that could have made a bigger difference," Kenney wrote. "Oh well. Hindsight is 20/20!"
By "Prop F," Kenney is referring to a law coming up for a vote in San Francisco that would prevent people from renting their homes for too many nights, or renting homes without registering rentals with the city. 
Airbnb has promised to remove the ads since the public backlash. But its first response, to SF Weekly, demonstrated indifference to the reaction.
We emailed Airbnb spokesman Christopher Nulty to ask whether the library ad was "real." He responded by email, "as opposed to a fake one :)"
Meanwhile, Airbnb is pouring millions into political campaigns. In July 2014, Airbnb ran a series of ads with a vague prompt for New Yorkers to "support" Airbnb as part of a multimillion-dollar lobbying campaign to change New York's leasing laws to make it easier for the company to do business. Petitioners spread out over NYC asked residents to sign a form stating their support.
The larger trend: Tech companies are working to erode the government's ability to regulate them. The car-service giant Uber, for example, has hired a slew of political operatives for its policy and communications teams to combat legislation that might try to rein in the company. Uber has added obstructive political notices right in the app asking people to fight against their local government in Uber's interest. 
Given enough money, tech companies with global ambitions can try to change laws they don't want to follow. And they've got access to the most powerful tool there is to draw up public support: not just the billboard around the corner, but your phone too.