Janelle Monae on #BlackLivesMatter and Meaning Behind Her Song "Hell You Talmbout"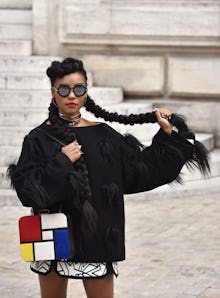 Singer and activist Janelle Monae told CNN in an interview published Thursday that artists provide a platform to address injustice. The interview followed her Sept. 12 performance at southeast urban music festival One Musicfest, where Monae performed her protest song "Hell You Talmbout."
"Silence is our enemy, and sound is our weapon," Monae told CNN of the song, which she recorded with all artists signed to her record label, Wondaland Records. Released in August, the song draws attention to instances of police brutality against minorities in the United States; Monae sings the names of several black victims of policy brutality, including Trayvon Martin, Sandra Bland and Freddie Gray. 
"I was really touched by the stories that I've been hearing [about police shootings of unarmed African-Americans]" Monae told CNN. "When I saw the families crying, we ... saw the frustration, and we wanted to do something about it." 
Monae sees the song as a method for protestors of Black Lives Matter, an American movement launched in response to police brutality against black people, to honor the victims of police brutality, noting that it's the least she, as an artist, can do for the movement. "So for us recording a song, recording a vessel for those who are out there marching frustrated," she told CNN. "Recording that song for them allowing them to chant 'Hell You Talmbout!' and honor those victims' names, that was the least that we could do."
Monae explained the song's meaning in an Instagram post shortly after its release in August. "We recorded it to channel the pain, fear and trauma caused by the ongoing slaughter of our brothers and sisters," she wrote.
Monae also stressed the beauty of uniqueness in the interview with CNN. "If you see something that's ... different from you, search about and look at the things that make them special," she told the outlet. "It's important that we see each other as human beings. We need to take care of each other."
In August, Monae was cut off during an appearance on the Today Show while dedicating "Hell You Talmbout" to the victims of #BlackLivesMatter, a moment she told CNN she takes the blame for, saying it "wasn't anything facetious" and that she "went over on [her] [allotted] time."