Wale and Meek Mill Feud Escalates, Rick Ross Throws Shade on Instagram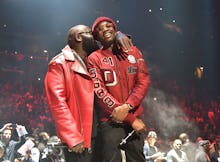 Meek Mill is involved in yet another social media war with a fellow rapper, now with Washington, D.C. native Wale. However, this time his allies in the music industry are backing him, including fellow rapper Rick Ross. 
Meek Mill and Rick Ross blasted Wale on Instagram following his recent appearance on the hip-hop radio show The Breakfast Club. In the Wednesday interview, Wale discussed Drake and Meek Mill's Twitter war, which erupted over the summer, saying he thought Meek Mill "brought a pencil to a gun fight."
Rick Ross, who happens to own the Maybach Music Group label both Meek Mill and Wale are signed to, captioned a photo of him and Meek Mill performing at Tuesday night's Tidal X: 10/20 event, writing, "Money over Bitches. #MMG." The post followed Meek's now-deleted Instagram post which read, "Niggas b doing all this to drop a new record gossiping about they hoe ass feelings and they personal life because they miserable and nobody don't rock wit them! Really stay away from me Fam! U not MMG NOMORE!"
Wale shot back at Meek Mill on Twitter on Wednesday, writing he was "lookin for a roof" and listening to Aloe Blacc's "I Need a Dollar," joking that Meek Mill is simply trying to get his name in the media for profit.
In his Breakfast Club interview, Wale replied candidly to a question surrounding the fellow artists' months-long Twitter war. "I honestly think he brought a pencil to a gun fight. He tried to paper cut him to death," Wale told The Breakfast Club. "You can't compete with somebody who has those type of relationships. He could've wrote Ether 3.0, the opinions of the people would've been that of, the boy from Canada waxed him."
Although it remains unconfirmed whether Wale will be removed from Rick Ross' Maybach Music Group, it's now obvious whose side the label owner is on. Ross' label was created in 2009 and features several of the biggest artists in the hip-hop and music industry, including Meek Mill, Wale, Gunplay and Omarion. 
Here is Wale's interview with 105.1's The Breakfast Club: