'Gilmore Girls' on Netflix: Spoilers, Release Date Info and Cast for Series Revival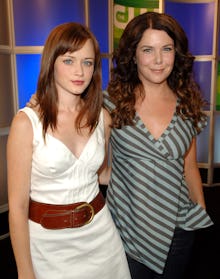 The adored mother-daughter duo of Rory, played by Alexis Bledel, and Lorelai, played by Lauren Graham, are rumored to make a comeback in Netflix's potential upcoming revival of Gilmore Girls, a show that could reveal unanswered questions like the fate of Lorelai and Luke's troubled love or what happened to Rory's career after the Yale graduate sent out 70 resumes in the 2007 series finale.
The revival won't be an entire season, according to the Hollywood Reporter. Instead, the miniseries will feature four 90-minute mini-movies set in real time, so roughly nine years after the finale, TV Line reports. 
Graham, who also played a single mom on the series Parenthood following Gilmore Girls, teased the revival in a tweet Monday, disclosing that she can't reveal or deny the rumors. 
Madeleine Albright tweeted too. The first female U.S. secretary of state guest-starred as herself on the 2005 season five episode, "Twenty-One Is the Loneliest Number," and she's pretty stoked about the possibility of a revival.
It could happen soon. Rumors suggest the cast will start filming in 2016, Us Weekly reports, and should be released at the same time as the Full House revival, Fuller House. Nostalgia overload. 
Lorelai and Luke: The actor who played Luke, Lorelai's on-again, off-again lover throughout the show, Scott Patterson, is negotiating a contract, TV Line reports. After a Gilmore Girls' reunion in June, the show's creator and writer Amy Sherman-Palladino said she thinks the couple would have tied the knot by now.
"It didn't really end," she said, according to TV Line. "It didn't resolve satisfactorily. ... I think they're together, 100%. I think they probably did" tie the knot.
Palladino will write the four episodes along with her husband and executive producer Daniel Palladino, according to Us Weekly.
Kelly Bishop, who played Lorelai's mother Emily Gilmore, has also negotiated a contract, TV Line reports. 
Sookie won't return: Melissa McCarthy, who played Lorelai's BFF and chef Sookie St. James, reportedly didn't sign a contract, Us Weekly reports. She also didn't show up to the show's reunion in June. McCarthy's fame launched since the show with her comedic roles in Bridesmaids and The Heat.