Adele '25' Gets Full Tracklist and Release Date for Single "Hello." Here's What We Know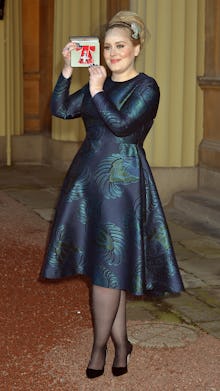 British singer Adele, born Adele Laurie Blue Adkins, has an album on the horizon, which the 27-year-old songstress has titled 25. On Thursday, Adele revealed via Instagram that the record is scheduled for release on Nov. 20. The artist also unveiled the full track list for 25. 
25 track list and single: On Thursday, Adele revealed that the album's first single, "Hello," is scheduled for release on Friday. The single will be accompanied by a music video directed by Canadian filmmaker Xavier Dolan, according to Pitchfork. 
Here's the full track list for 25. 
1. "Hello"
Album theme: Numeral-themed albums are not new to the artist. In 2011, Adele released an album titled 21, and her debut album in 2008 was called 19. To explain why the now-27-year-old musician would title her most recent record 25, Adele penned a letter to her fans and published it on Twitter. 
"Turning 25 was a turning point for me, slap band in the middle of my twenties," Adele wrote. "Teetering on the edge of being an old adolescent and a fully-fledged adult, I make the decision to go into becoming who I'm going to be forever without a removal van full of my old junk. I miss everything about my past, the good and the bad, but only because it won't come back... 25 is about getting to know who I've become without realizing."
On Oct. 18, the "Rolling in the Deep" singer posted a teaser for her forthcoming record. Here's the clip: