Adele Just Dropped the Video for "Hello," Her First Single From New Album '25'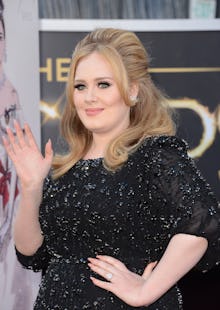 Adele's been away for a while, so appropriately enough, she's welcoming us back into her life with a "Hello."
The singer dropped her first single in three years Friday after a week of hype unlike anything seen since Taylor Swift first talked about 1989. The song, titled "Hello," is the same one she teased in an advertisement during The X-Factor in the U.K. last weekend. To make up for the three years we spent without her, Adele released the video for the song as well.
Helmed by Canadian actor-director Xavier Dolan, the video features Adele, captured in a gritty black-and-white, returning to a former home reflecting on her time with an ex-lover (Tristan Wilds). This goes hand in hand with the song, which starts as a bit of melancholy meditation and powers through into Adele belting her face off during the chorus.
Twitter, unsurprisingly, was delighted by the new single and video.
"Hello" serves as the lead single for 25, Adele's third studio album, set to be released Nov. 20. The album, which includes 11 tracks and was described by the artist as a "make-up album," has big shoes to fill. 21, Adele's last record, won the Grammy for album of the year and sold 11 million copies.
"Hello" can be downloaded on iTunes. Watch the video below.